Orientation Days of EUL received Great Interest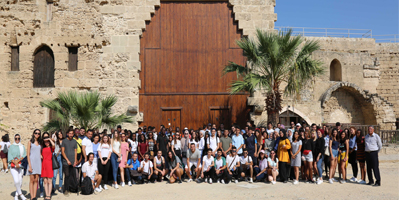 Students had the Opportunity to Get to Know the T.R.N.C with Culture Tours 
In the program titled "Orientation Days" organized by the European University of Lefke (EUL) Centre of Social and Cultural Activities which included many social and cultural activities, concert and trip activities were held. The activities of the program, which is organized every year in order to introduce Northern Cyprus and the university life and to ensure that students start their education periods with good motivation, received great interest from the students.
Traffic Orientation Training was offered to the Students
Within the scope of the informative series of seminars, students were offered 'Traffic Orientation Training" by the traffic instructors at the KKTCELL Traffic Education Park of the Association of Traffic Accidents Prevention, and the importance of awareness raising in traffic and the awareness of traffic was explained.
Cultural riches were visited with guides
In the program where historical places were also visited, after the trips to Lefke and the region, students were offered Herse which is one of the tastes of Cypriot cuisine. In addition to the trips to the Lefke region, new students visited the capital city Nicosia and Kyrenia with guides and had the opportunity to see many cultural riches in place and to get to know the environment.
During the concert, which was organized within the framework of the orientation activities, Ahmet Evan met with EUL students. Evan performed a great performance at the concert and attracted great attention from EUL students and gave students hours of fun during the night.