Panel about "Breast Cancer: Touch Feel but don't be Affraid" held in EUL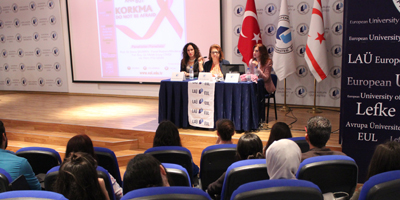 Emphasis on Early Diagnosis
A panel on "Breast Cancer: Touch Feel but Don't be Afraid" was organized in line with the "1-31 October Breast Cancer Awareness Month" by European University of Lefke (EUL) Higher School of Health and Faculty of Health Sciences in EUL Rauf Raif Denktaş Education Comlex Conference Hall which was moderated by the Director of EUL Higher School of Health, Prof. Dr. Deniz Şelimen, and attended by the member of the Faculty Assist. Prof. Dr. Melek Ersoy Cingi and Specialist Nurse Filiz Uzun attended as speakers.
Şelimen stressing that the month of October is the cancer awareness month, also underlined that breast cancer is the leading threat to women as an illness which to the same extend effect men as well as the women. Şelimen emphasized on early diagnosis of breast cancer.
Cingi: Cancer is the prior reason of death in women
Cingi who has discussed about issues such as cancer, breast problems, breast cancer indications, breast cancer placement and spread, first samples, breast cancer incidence and risk factors in her presentation, described cancer as a genetic deterioration and excessive proliferation of cells displacing into undesirable locations. Gingi described the symptoms of breast cancer as: mass, pain, nipple discharge, forgue sign, edema on the nipple, orange peel appearance, deep ulceration and edema, retraction at the nipple, growth in adjacent lymph nodes and abnormal swelling in the upper arm. Gingi emphasized that cancer is the second leading cause of death in the world and that women are in the first place as the cause of death. Gingi also emphasized that risk factors for breast cancer include gender, age, breast cancer in the family, duration of fertility, overweight, inactivity and smoking.
Uzun: 1 in 7 females risk breast cancer
Uzun reported on statistics in breast cancer gauze in the TRNC that 35.6% of women with cancer holds the first place as the number of patients who received an annual cancer diagnosis is reported to be about 160 cases. In Nicosia Dr. Burhan Nalbantoğlu State Hospital, it is explained that 70 women, 3 men in 2011, 51 women in 2012, 76 women and 1 male in 2013 were diagnosed with breast cancer. After 2014, not only in Nicosia Dr. Burhan Nalbantoğlu State Hospital, the TRNC citizens who are diagnosed with breast cancer are gathered in a certain system and work is done to receive the data from a single center all around the world.
According to the statistics obtained by the Ministry of Health in 2012, the distribution of breast cancer according to the districts is expressed in every 100 thousand people, Famagusta 695, Kyrenia 668, Nicosia and Morphou 542 people. The screening is underlined to be implemented both in Dr. Burhan Nalbantoğlu State Hospital and other private centers.
According to the statistics made, Uzun said that 1 out of 7 females had a risk of developing breast cancer. "For this reason, we should not neglect our scans to detect the mass early, early diagnosis saves life," Uzun said. Uzun also provided detailed information on mammography, ultrasound, clinical breast examination and breast self-examination which are early diagnostic methods in breast cancer.