Photographer and social media phenomenon Turkish Cypriot Altuğ Galip shared his "Social Media Management" experiences with the students of EUL Faculty of Communication Sciences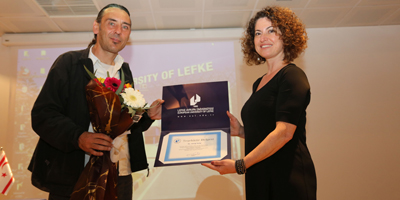 "My network allowed me to reach large audiences"
European University of Lefke (EUL) EUL Faculty of Communication Sciences hosted photographer and social media phenomenon Altuğ Galip. Altuğ Galip shared his knowledge and experience on how to manage social media in the event, which students showed great interest in.
In his speech, Altuğ Galip also mentioned the features of social media platforms and emphasized the leadership of Instagram in this field. Noting that there was a real boom especially with Facebook's acquisition of Instagram in 2012, Altuğ Galip said, "I also expanded my network at that time. With the help of my friends from many parts of the world, I started to reach wider audiences. As I reached more people, I started receiving invitations from distant parts of the world."
Among the "tourism boards" organized under the Ministry of Tourism of some countries; Stating that he received invitations to promote countries or a particular city or region by taking photos and sharing them on social media accounts, Altuğ Galip emphasized that social media allows promotion with very little budgets.
In his speech, where he shared his experiences on nearly 20 Instagram pages and the number of followers that reached millions, Altuğ Galip also gave tips to students on how they can show themselves on social media and increase the number of their followers.
The event ended with Altuğ Galip answering intense questions from the students.