Respect for Human Life, Dignity and Rights is in the Nature of Nursing Proffession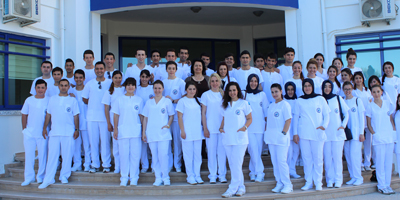 European University of Lefke Health Academy Director Professor. Dr. Deniz Şelimen gave detailed information about Nursing and Health Management Undergraduate Programs, emphasizing the importance of maintaining a healthy life and quality of life for people.
Şelimen stated that the nursing profession is a multidimensional profession that requires nursing knowledge and skill as well as respect for human life and dignity, while explaining it as a scientific nursing art that aims to provide comprehensive, quality and evidence-based health care services that protect, and develop the individual's health.
"The education should be given at the clinical practice environments which supports the theoretical education"
Şelimen said that "nursing is a practical dynamic science" and added that in order to be able to raise qualified human power, nursing education should be given by specialist health professionals in clinical practice environments which supports the theoretical education. Şelimen emphasized that EUL, which is aware of the necessity of careful and supervised clinical applications in nursing education that provides human health, offers nursing applications laboratories, fully equipped operating surgery laboratories, child and labor laboratories and provides them for use of students. She also expressed that students can learn and practice basic applications with these possibilities and pre-clinical models and equipped laboratory appliance.
Şelimen said that "The need for qualified nurses is increasing day by day. The nursing profession's indispensability in the field of health is revealed by the fact that the nurses are ready for their work as soon as they graduate". Şelimen pointed out that the nurses' job opportunities are vast and they can work in fields such as public health education, industry, and health tourism, travel nursing and preventive services and in all institutions serving human health outside clinical areas. Şelimen also expressed that the graduates from nursing school also have academic career opportunities with graduate programs in the field of nursing and that as EUL they aim to educate nurses who will contribute to the development of basic education and nursing services and added that in 2015-2016 academic year, nursing master program with thesis began.
Giving information about the program, Şelimen said that the main objective of the Department of Health Management is to educate managers and leaders who will serve in government, private and industrial institutions and organizations in the health sector, and who will be expert witness in health manager consultancy and health management decisions and she added that the Department will also provide a trained human resource with knowledge of managerial practices, patient, customer relationships and effective communication.
Lastly, Şelimen stated that they organized various activities for the students outside of the lesson and added that they participated in symposiums and congresses both at home and abroad, and that they planned to carry out hypertension and cancer screenings in the new semester.