"Rwanda Culture Day" Celebrated at EUL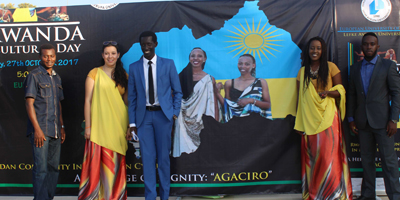 "Rwanda Culture Day" organized by European University of Lefke (EUL) Directorate of External Relations and International Student Club took place at EUL plaza area with several facilities.
The event began after the speeches, indicating the significance and importance of the day. Rwanda Culture Day program included; dance show of the students with the cultural music specific to Rwanda, cultural shows where local clothes were introduced, and presentation and catering of cultural meals.
Rwandan students expressed their feelings and thoughts about the Culture Day;
Festus Maniriho: I am a Ph.D. student in the Department of Horticultural Production & Marketing at the Faculty of Agriculture. I enjoy working in the department, and at the same time I am learning something new here every day. I feel like I am part of the EUL family. I am grateful to EUL for this beautiful organization.
Steven Bazatsinda: I came to Northern Cyprus last year from Sakarya University. I am a guest student at METU. I am here today to support my Rwandan friends. I believe that introducing the Rwandan culture is an important task for all Rwandan students studying in Northern Cyprus. I love North Cyprus and its people very much. I was very pleased with the hospitality shown to us by EUL today.
Alain Christel Mizero: I'm a 4th grade student in the Department of Architecture. Being a part of this organization makes me both happy and proud. The good and important part of studying abroad is that we introduce our country to our student friends, and we get to know the cultures of other countries. So today we are introducing our own country and we are proud of it. I am very happy to be a member of EUL.
Joella Umutesi: I am a second year student at the Department of New Media and Journalism. When we saw that EUL supported these kind of activities, we wanted to take part as Rwanda in the activities. We arranged the organization within two weeks. We organized different branches of committees and we assigned a responsible student for each branch. These branches are as follows: Stage performances, promotional stands, music and technical stuff, food stands, and general coordination department. Today is the Rwandan culture day and as Rwandan students we believe that we have introduced the Rwandan culture to our friends.
Karolina Kolarova: I'm from the Czech Republic. I am a third year student at the International Relations Department. As the president of EUL International Student Club I am here to be a part of the organization and to support this beautiful organization today. EUL has students from over 75 different countries and each of us has a different culture.. It is very important to get to know these cultures and to introduce our culture to our friends and to Northern Cyprus, and at the same time it is fun. There was a          high level of participation to the organization, from other universities and our friends from our own university. I would like to thank EUL for supporting our club and organization.