"Social Service is a Right" themed panel was held in EUL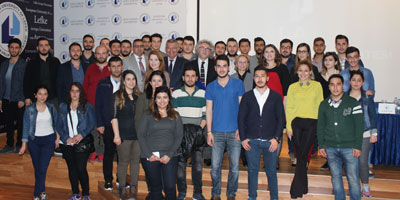 Importance of social service was emphasized
A cooperation was made between the European University of Lefke Health Sciences Faculty Social Service Department and TRNC Ministry of Internal Affairs and Ministry and Labor Social Services Administration and they performed a "Social Service is a Right" themed panel in two sessions within the scope of "World Social Service Day". First session was held in EUL Rauf Raif Denktaş Education Complex Conference Hall and the second session was held in KTAMS Conference Hall. Presidency of the conference was held by EUL Health Sciences Faculty Social Service Department Lecturer and Social Service Specialist Ayşe Özada Nazım.
In the panel, EUL Health Sciences Faculty Social Service Department Lecturer Prof. Dr. Beril Tufan made a presentation about "Social Service in terms of Human Rights", Hacettepe University Faculty of Economics and Administrative Sciences Social Service Department Lecturer Dr. Uğur Özdemir made a presentation about "Social Service and New Perspectives and Tendencies" and Social Service Specialist Murat Altuğgil made a presentation about "Social Service Practices in Turkey".
Panel was held with the participation of large number of the students and social service officers. In the panel how the social service work should be understood was discussed. In the panel, that the social service is not a job which is performed with conscientious responsibility or humane sentiment, it is a job that is performed professionally with planned change processes, professional response techniques was emphasized. The panel in which new paradigms and tendencies were approached in social service was beneficial for both students and people who works in this field.
Tufan: "Key role" of social service must be discussed
Tufan remarked that importance of characterise social service practises as a social right. He emphasized that in order to take over the discrepancy between "universal" and "local" and to find life in practices, key role of social service must be discussed.
Tufan emphasized that right-based approach use international law as a base and he aim to perform human rights by regulating the relation between the title holders and work owners. He said that every issue that is perceived as a "right" they also include "duty" and "responsibility" concepts. Tufan remarked that individuals have a right to benefit from various services in order to fulfil their social needs. Individuals have the rights such as work, income, housing, enough food and clothing, education, health services, social security, treat with dignity in old ages.
Özdemir: Social service specialists shouldn't act with conscience or humane sentiment
Özdemir indicated that social service have come into existence after university departments, science and disciplines and it is a discipline that is predicated on the needs. He said that with the development of industry, social service has become one of the practical profession for people to support their existence.
Özdemir expressed that social service is not a job that is performed with conscientious responsibility. He indicated that social service specialists were not a professionals to give service to people who in need with human sentiment or with their existent sensual capacities. On the contrary, social service specialists were certificated by some education institutions in consequence of knowledge and skills during the work process so that they must act with this conscious.
Altuğgil: Social service specialists must be liberal and purified
Altuğgil indicated that social service specialist must be 'liberal' and 'purified' in their professional lives. He said that If you don't free yourselves an individual, you don't reveal your knowledge, you will never inform and liberate your participants." He explained the "purifying" as social service specialists 'should be free from values that they obtain from their families and environment, vocationally. Unless they separate them, they will never successful. Altuğgil indicated that people who work in the field of social service must behave "ethically" first. This priority has an effect on increasing the professional performance.
Panel, after the question-answer section was finished with presenting certificate of participation to panelists by EUL Health Sciences Head of Vocational School Assist. Prof. Dr. Özhan Öztuğ.