Spaghetti Bridges competed at EUL "Construction Day"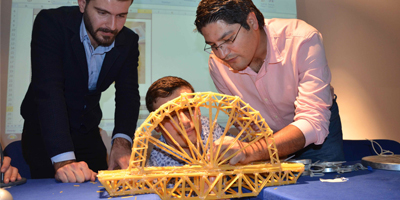 European University of Lefke (EUL) Faculty of Engineering organized "Construction Day".
Within the scope of organization, the founder of the Geotechnical Engineering Association Turkey and the Secretary General of the Association, the Civil Engineer (m.sc) Müge İnanır who was also present at Turkey's most important projects in the field of Geotechnical Engineering, 3rd Istanbul Airport, Osmangazi Bridge and Marmaray projects made a presentation about "Software Used in Geotechnical Engineering".
Civil Engineer (m.sc) Orhan İnanır gave detailed information about "Instrumental Observation Studies in Geotechnical Field", and Chartered Mechanical Engineer Tamer Zaim made a presentation about "Eco Driving Buildings" and he enlightened the students about the things that civil engineers should pay attention during integration with other engineering branches in industrial building design.
The competition was conducted with the principle of "the lightest and the most durable bridge"
The organization continued with the testing of the bridges of the students who participated in the Spaghetti Bridge Competition. It was a big contest in terms of bridge competition where first year students of Civil Engineering Department built different designs with 50 cm length and 10 cm width using silicon and silicon guns.
In the competition which was conducted with the principle of "the lightest and the most durable bridge", the most successful groups were determined with dividing the weights that the bridges succeed to carry to the weights of the bridges. The first three bridges in the competition carried 38, 36 and 34 times their own weights, respectively.
The event, which attracted active participation, ended with the presentation of the awards to groups ranking the highest by the Academicians of Department of Civil Engineering.