Special education was emphasized in EUL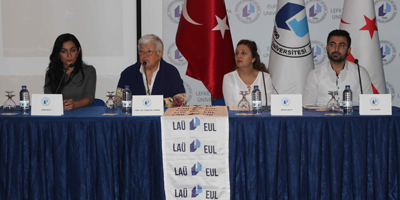 The panel entitled "Being a Candidate Teacher in Special Education, Becoming a Teacher and Becoming a Mother" was held by European University of Lefke (EUL), by Dr.Fazıl Küçük Education Faculty Mentally Handicapped Teaching Department in EUL Rauf Denktaş Educational Complex Conference Hall. Prof. Dr. Ayşegül Ataman- Head of Special Education Teaching, Lecturer Esma İneci and Ali Sayar- senior student of Teaching Department of Mentally Handicapped Children and Mother of a Hadicapped Child Sevda Seyfi have participated as the speakers of the panel.
The panel started with the opening speech of Prof. Dr. Süleyman Eripek, Head of the Department of Mentally Handicapped Teaching. Eripek stating that that they have organized various programs on national and international days and weeks and that they have organized this event due to the World Handicapped Day and stressed that according to UNESCO reports, only 19% of children with disabilities in developing countries benefit from education services whereas in Turkey and the TRNC this situation is not so dramatic in contrary.
Ataman: Do not focus on differences, focus on similarities
Ataman: "We need to know that individuals who are affected by disability have rights like us and that they want to do whatever we want to do. We need to understand that we are equal in terms of fundamental rights and freedoms, "he said. The main problem is that children with special needs are different from ordinary people and they are behaved differently. Pointing out that, differences should not be emphasized, similarities should be emphasized, Ataman emphasized that there are too many similar points, that individual differences should be respected and focused on similarities.
Seyfi: My daughter developed herself through special education
Seyfi said; One of the twin children has special needs and that one of the children does not show normal development compared to the other and that doctors may find that 'one is less developed than the other' among the twins. He said that this tension increased in the coming periods and that the child was diagnosed with the stress of psychomotor development. Seyfi said: My partner supported me so much in this case; my child developed himself with special education and he started to understand everything that happened around him.
İneci: It is important to value students and make them feel valuable
İneci stated that the family and the community does not know how to approach or behave with special needs children. İneci stated that the type of diagnosis is not important to them as individuals are more important whereby students must feel the value committed to them.  Giving information about the activities of Yesilyurt Special Education Center with their families, İneci stated that thanks to these activities, their communication with their parents increased and their families are been informed.
Sayar: I want to show that students with special needs can succeed
Sayar, a senior student in the Department of Mentally Handicapped Teaching Department, stated that they had the opportunity to improve themselves, thanks to the information they had received from specialist lecturers in their fields and thanks to special education practices in EUL. As a teacher candidate, Sayar wanted to show that special needs students could succeed in the future.