Statement by EUL Academician Soycan within the scope of "World Salt Awareness Week"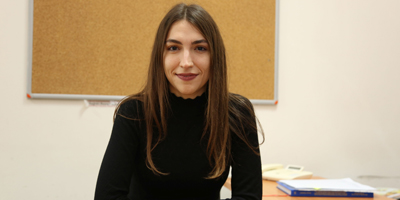 Consume less salt for a healthier life
European University of Lefke (EUL) Faculty of Health Sciences Nutrition and Dietetics Department Lecturer Dr. Gülten Soycan made statements about salt consumption within the scope of "World Salt Awareness Week".
Soycan stated that the World Health Organization (WHO) recommends that the daily salt consumption of adults should be below 5 grams, and continued with the following statements; Sodium and table salt can be obtained from various foods consumed during the day. Sodium is a mineral found in salt. Table salt consists of sodium and chloride. Table salt can be produced from a variety of sources, such as sea or rock, and the amount of sodium chloride from all types of salt is similar. Each gram of table salt corresponds to 393 mg of sodium. Thanks to the sodium content in its structure, salt provides fluid and electrolyte balance in the body and plays a role in the regulation of blood pressure. The enrichment of salt with iodine has significantly reduced the incidence of diseases that may occur due to iodine deficiency.
There is a direct relationship between high salt consumption and hypertension.
While the WHO has determined that the average daily salt consumption should not exceed 5 grams, it is stated that the salt consumption of adults today is much higher than the recommended amount and the excess salt taken in the diet mainly comes from processed foods. He stated that it can cause stroke and heart diseases, cardiovascular diseases, kidney diseases, osteoporosis and some types of cancer. Stating that there is a direct relationship between high salt consumption and hypertension, Soycan said that when salt intake is controlled, hypertension is one of the preventable causes of death.
Excessive salt consumption is a changeable eating habit.
Packaged snack products such as ready-made sauces, chips and salted nuts, foods containing monosodiumglutamate (MSG), olives, cheese, pickles, pickled meats, salted and/or pickled meats, canned fish, beverages such as sodium-containing mineral water, and home-prepared tomato paste Stating that foods such as turkey, tarhana and pickles contain high amounts of salt, Soycan stated that another factor that increases daily salt consumption is salt added to meals. Saying, "Excessive salt consumption is a changeable dietary habit and some measures can be taken to reduce salt consumption," Soycan continued by making recommendations; For example, the amount of salt added during meal preparation, cooking and consumption can be restricted. Label information of purchased packaged and processed products should be read, attention should be paid to their salt content, and low-salt/non-salt products should be preferred. Natural flavor enhancers such as lemon, vinegar and spices can be used instead of salt. Used in the food industry, packaged foods, MSG, sodium nitrate, sodium ascorbate etc. Attention should be paid to the consumption of all sodium-containing products. Excessive salt consumption, which poses a threat to public health, can be controlled by various action plans, legal regulations, and studies of the food industry under the leadership of government policies. However, it should not be forgotten that the most important step is to pay attention to individual awareness and eating habits of individuals. As a result, controlling excess salt consumption can prevent many diseases and contribute to a healthy life.