Students of EUL conducted Immediate Aid Simulations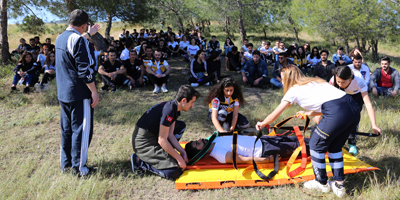 First and second grade students of European University of Lefke (EUL) Vocational School of Health Sciences Department of First and Emergency Aid conducted immediate aid simulations at the Bağlıköy forests under the framework of their Physical Education and Performance lectures.
EUL students had the opportunity to apply their theoretical knowledge           
The applications were conducted by Assist. Prof. Dr. Suphi Türkmen and Assist. Prof. Dr. Semra Aslay. In the trainings, the students had the opportunity to perform the theoretical knowledge about the sick and injured transport techniques in the mountainous area with the application of case simulations in the forest area.
During the trainings, the importance of coordinated work as a team was emphasized along with the professional knowledge in field, and emergency rescue simulations were made with the difference groups composed of students.