"Substance Addiction in Youth" seminar was held at EUL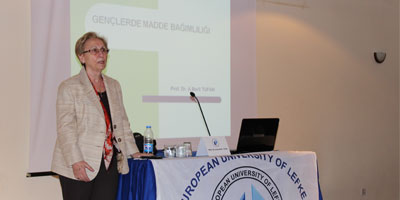 EUL Faculty of Health Sciences organized a seminar titled "Substance Addiction in Young People." In the seminar held at EUL Cinema Hall, Prof. Dr. Ayşe BerilTufan from the Department of Social Work, Faculty of Health Sciences informed students about the substance addiction.
Having mentioned the reasons of substance addiction and the causes for which people are tend to have such addictions, Tufan stated that one of the primary reasons which leads people to such addictions is the role of families. "There may always be clashes between the desires of parents and their children. These clashes are a part of life and it is not fair to say that they are always unfavourable. The important thing is the fact that how these clashes are settled" said Tufan.
Tufan added that risky periods for substance addiction are the times of great transition periods in young people's lives according to the researches; during these transitions problematic behaviours may appear in a period when they are defenceless and they may also be due to physical changes and social events.