TRNC Deputy Prime Minister and Minister of Foreign Affairs Özersay gave a Conference at EUL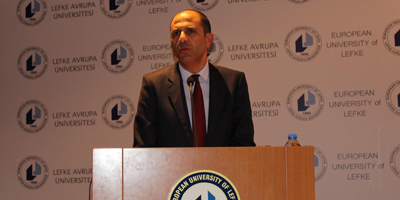 Conference themed "Energy Resources of East Mediterranean and Cyprus" held at EUL
European University of Lefke (EUL) Faculty of Economics & Administrative Sciences organized a conference themed "Energy Resources of East Mediterranean and Cyprus" that took place in Rauf Raif Denktaş Conference Hall in 11 May 2018. TRNC Deputy Prime Minister and Minister of Foreign Affairs Prof. Dr. Kudret Özersay attended the conference as a speaker. Özersay informed the EUL students about how the Cyprus Problem affects politic and diplomatic relations in the region of East Mediterranean and about the route of this relation.
Özersay: We have to be creative and try to give of our best
Pointing out that, despite being in a more advantageous condition when compared to other countries, TRNC is in dilemmas in foreign policies and in similar cases, Özersay said that "That's why I think we have to be creative. In order to develop the economy in our country and to go forward with our country, we have to be creative not only in terms of product, but also in the meaning of foreign policy, economic, social and cultural affairs in the political regime and we have to establish relations with the international community and we should try to give of our best".
Özersay said that, "In the energy field, the state has the most of the shares of companies in the natural gas and oil fields. The general character of American foreign policy is a policy oriented towards cleaning the way for American energy and oil companies. Most of the shares of energy companies in Italy are in the control of Italian Government. The situation is similar in many countries such as the Russian Federation and Azerbaijan. Moreover, Turkey also has a word in Turkey oils incorporated companies".
Özersay also said that, "In the cases where natural gas and hydrocarbons are at stake, this hydrocarbon and welfare in general terms can create a reciprocal dependence if intended, and this dependence can really serve to peace and stability in the region. This is not necessarily the case for the Cyprus problem". Özersay said that, if this is not the case, the situation can become a concept that breeds tension, so, the situation needs a convergent point that would include the decision of world powers in the international area, rather than just the decision of regional actors, Turkish Cypriots and Greek Cypriots.
Özersay finally said that, "Will this element be transformed into an element of tension, or will it be used as an element to provide mutual commitment and cooperation are matters that we will see together in the future. We need to have a political preference here, and by shaping our foreign policy, we need to put a stance as both TRNC and Turkish Cypriot side, which I think we ensured."