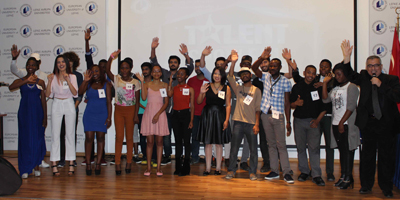 Students demonstrated their talents
European University of Lefke Student's Dean Office and International Student Club organized an event called "EUL Talent". The EUL Talent Competition which aimed at bringing individual and group talents to the forefront was realized with an intensive interest and participation of the students.
During the competition organized in the EUL Rauf Raif Denktaş Education Complex Conference Hall and which was composed of two legs, the students had the opportunity to have fun by exhibiting their talents.
In the event, the students were invited to the stage in an enthusiastic manner, screening the promotional videos of the students participating in the contest to raise the motivation of the students to demonstrate their talents. At the EUL Talent competition where 22 competitors exhibited their talents in the final stage, the students made different shows from one another. In the event, students' dance shows, mini-theater shows, beatbox and song performances were greatly appreciated.
The competition which was organized by Bülent Günkut, was presented by Bülent Günkut and EUL International Office Director Kezban Zurnacı. The final of the competition was enjoyed by the audience as the jury members had hard times selecting the best. The ranked top three students were presented with plaques of achievement by the members of the jury. The winner was SimbisoTakudzwa Chimbetete, the first runner up Medyen Türkmen and the second runner up was Sihlelewe Masilela.