Technical trip had been organized for students of EUL Electrical-Electronics Engineering Department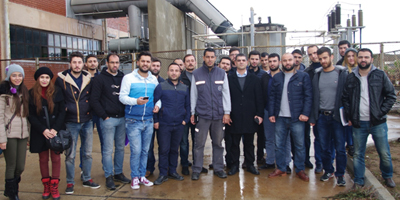 The students of European University Lefke (EUL) Faculty of Engineering, Department of Electrical-Electronics Engineering have realized a technical trip to Teknecik Electric Power Plant.
Head of Department of Electrical and Electronics Engineering. Assist. Prof. Dr. Burçin Özmen, explained the aim of the trip to Teknecik Electric Power Plant as the intention of students to see the production and transmission principles of electrical power and devices on the spot and to reinforce the theoretical knowledge of the students in the course in real working environment.
Özmen has stated that such technical trips are beneficial to the post-graduate business life, giving students the opportunity to recognize materials professionally, to spot large practical applications, and to observe energy production techniques. Ozmen, who indicated that the senior students of the Electrical and Electronics Engineering Club participated in the trip, stated that detailed information was provided by the Electricity Engineers of the TRNC Electricity Authority during the technical trip.