The Chairman of Gastronomy Club of EUL Nadir Kalaycı has participated in an event organized by The Platform of Tourism's Future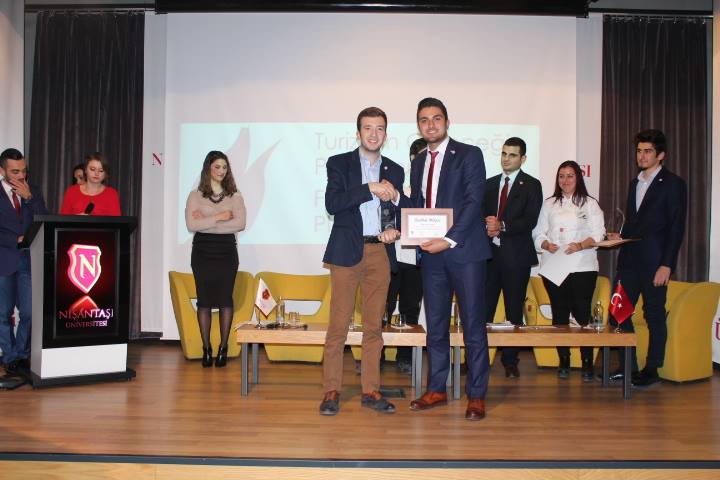 EUL has been represented in "1st Istanbul Tourism and Gastronomy Meeting"
The Chairman of Gastronomy Club of European University of Lefke (EUL) Nadir Kalaycı has participated to the "1st Istanbul Tourism and Gastronomy Meeting" which is organized by The Platform of Tourism's Future. Alongside of Nadir Kalaycı, who is the representative of EUL from TRNC, many other platform members have participated from Turkey to this event which is hosted by Boğaziçi University and Nişantaşı University.
Kalaycı has joined in "Chefs of Future and Gastronomy" themed conversation and made a presentation about "The techniques of marketing Turkish products to World Food Market and Cuisine Movements". In the presentation, Kalaycı has mentioned that a lot of new cuisine movements have appeared past years, and also mentioned that "the most popular" of them were Fusion, Molecules and Mediterranean Cuisine. Kalaycı, while telling that he thinks Mediterranean Synthesis Cuisine will help to contribute Turkish cuisine, has mentioned that this movement is in the lead of using home products and aiming to create new menus without using imported product. Kalaycı also added that educated chefs are presenting every product with different techniques. Kalaycı has mentioned that the taste of the created menu is as important as the importance of the presentation technique and stated that all of those are a technique that reflects the personality of the chefs.
Kalaycı is the Liable Press Council of Platform of Tourism's Future
In the meeting that has been made at the end of the events, Kalaycı has been made "the Liable of Press Council of Platform of Tourism's Future". Kalaycı has spoken while mentioning that it's an honor for him to represent EUL in an organization with such participation: "I'm especially thankful to Rector Prof. Dr. Mehmet Ali Yükselen for supporting us to participate in these events, also thanks to the Student Dean Özgür Yılmabaş."
The Tourism and Gastronomy Meeting has been made in three sessions within two days, with the participation of members of different universities and famous hotel agents.