The Importance of Tourism was Discussed at EUL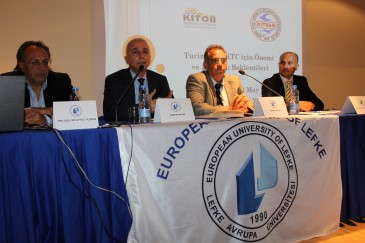 A panel titled "Importance of Tourism and the Expectations for 2014" was organized by EUL School of Tourism and Hotel Management and the Tourism Club.    Hüseyin Aktığ, President of North Cyprus Hoteliers Association (KITOB); Orhan Tolun, President of Association of North Cyprus Travel Agencies(KITSAB); Assist. Prof. Dr. Aytaç Yıldırım, Head of EUL Gastronomy Department; and Assist. Prof. Dr. İbrahim Çetin, Head of EUL Tourism Management Department delivered speeches in panel which was held at EUL Cinema Hall.
Panel participants expressed their opinions regarding the importance of tourism in N. Cyprus and their expectations from the year 2014 during the panel which was moderated by Nazmi Buldanlıoğlu from the EUL Tourism Management Department.