Theatre Play held at EUL raised Laugh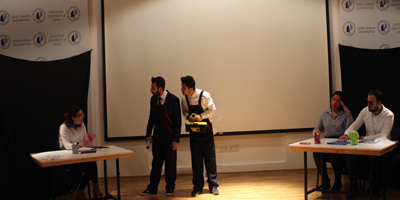 The theatre play organized by the European University of Lefke (EUL) Theatre Club was held at Rauf Raid Denktaş Conference Hall. The theatre play which consisted skits such as "Families Competing", "Wive", "Corporate Language" and "Flat Manager", offered the students the chance of having a good time.
Giving information about the event, Head of the EUL Theatre Club Demir Yılmaz Karafakılı said that, the EUL theatre club which is one of the most active clubs of the EUL, organized the event which consisted four different skits in order to increase the motivation of the students before the finals. Pointing out that the theatre play which raised laughs started with a dance show and proceeded with different shows, Karafakılı said that there were students of Near East University, International Cyprus University, and Girne American University among the audience. Karafakılı expressed that that he was very happy about the audience's interest in the EUL's theater team which brings together the theatre lovers.
At the end of the event, director of the play Yaren Gül Kollik said that "Thank you so much for giving us the recompense of our work for months. We are grateful the support of our university".