Three Articles of EUL Academician Gökmenoğlu are Published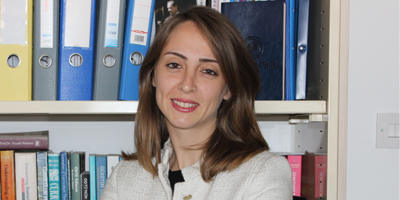 European University of Lefke (EUL) Faculty Member of Dr. Fazıl Küçük Faculty of Education, Assist. Prof. Dr. Tuba Gökmenoğlu's articles have been published in the Education Resources Information Center (ERIC) and Australian Journal of Teacher Education, Issues in Educational Review and Başkent University Journal of Education.
Gökmenoğlu, who gave information about her work stated that, Ministry of National Education Statistics were carried out in 26 provinces and 352 primary schools in Turkey, which were determined as unsorted according to Regional Units Classification, and the results of the project supported by the Ministry of National Education of the Turkish Republic were published in three separate journals and developed into products. Gökmenoğlu, indicated that "The work titled "Professional Development Needs of Turkish Teachers in an Era of National Reforms" prepared by Prof. Dr. Christopher M. Clark and Prof. Dr. Ercan Kiraz and "Turkish Teachers Evaluate Professional Development Experiences" co-prepared by Clark have been published in ERIC and Australian Journal of Teacher Education and Issues In Educational Review. In their work with Clark, Gökmenoğlu expressed that they have seeked what type of professional development activities teachers need in the course of their education reforms and how they assessed in-service training they have received.
Teachers do not participate in the professional development program
Gökmenoğlu stated that another study titled "The Profiles of Primary Education Teachers in Turkey" was published in the Başkent University Journal of Education, which is published by Ulakbim, an internationally acclaimed journal, and the profile study with 1730 teachers in Turkey emphasized the professions and professional characteristics of primary school teachers. As a result of her work, Gökmenoğlu said that 19.3% of the teachers who participated in the study did not commence the profession by choosing the teaching profession at the undergraduate level, that a significant part of the teachers had not previously participated in any professional development program or seminars. "Teachers who emphasize professional development needs at this point emphasized that the factors that most influence the needs for professional development are changes and innovations in technology, reforms and changes in education, and changes in exams and transition systems", Gökmenoğlu said. And also added that the study "Turkish teachers evaluate professional development experiences" was cited in three completed doctoral theses in the United States. According to the results of the study, there are various problems or deficiencies in terms of teachers' inadequacy of in-service training programs and professional development activities they attend and in terms of trainees, program contents, education conditions (methods and techniques used), test cases (measurement and evaluation dimension). Gökmenoğlu said that they shared the results of the study with the relevant ministry departments within the scope of the teachers' priorities and recommendations on what, where, how and by whom the education should be given at this point. Gökmenoğlu stated that there is a framework for how the professional development services to be given to the teachers should be planned in such a way as to be of better quality.