"Violence" themed panel held at EUL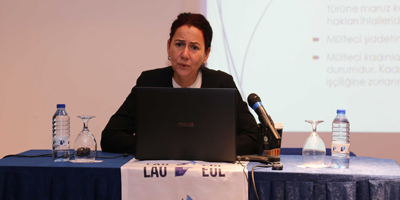 Ensuring gender equality is the most important element preventing violence
European University of Lefke (EUL) Faculty of Arts and Science Department of Psychology organized a panel themed "violence". The chairperson of the Psychology Department Assist. Prof. Dr. Zihniye Okray, and Academicians Assist. Prof. Dr. Sultan Okumuşoğlu, Assist. Prof. Dr. Cemaliye Direktör and İbrahım Bahtiyar handled the concept of "violence" in different aspects.
 Okray: Different dimensions of violence types discussed
Okray pointed out that in the sixth of the annual meetings on violence, which have become traditional organized by EUL Psychology Department, in addition to violence against women, children, the elderly, individuals with special needs, violence in other special areas such as flirting violence and peer bullying have been discussed. Okray pointed out the issue of violence against refugees which is on the agenda this year and stated that especially children, elderly and women who are forced to migrate as a result of war, migration or regional conflicts are exposed to violence and carry these traces throughout their lives.
Okumuşoğlu: Preventing violence is a duty of every individual in society
Okumuşoğlu stated that there are different types of violence such as "aggression type" which is a psychological violence merges in the form of shouting and insulting and added that the type of coercion psychological violence occurs in the form of threatening, intimidating, isolating and controlling the target person. Okumuşoğlu went on to say that those who have been subjected to psychological violence as a child, or those who are currently subjected to verbal violence / abuse in the home environment, can perceive non-destructive forms of psychological violence as normal forms of communication. "Therefore, they cannot recognize the emotional / verbal violence against themselves or others" she said. Okumuşoğlu also emphasized that violent and abusive forms of communication are never "normal communication and added that exposure to these can have long-term effects and damage to the child or the major target. Okumuşoğlu said that "It is noteworthy that "norms and values" and "educational necessities" which should be changed and are mentioned among the solution proposals in the literature. These proposals are really important and imply that people do not know what is violence and what is not. Okumuşoğlu also emphasized that it is very important to prevent violence by recognizing the fact that society creates and even encourages norms and values that support some forms of violence. Okumuşoğlu said that striving to create a social climate that does not justify violence is a duty for every individual in society.
Direktör: interventions in the private sphere of children by parents are among the types of emotional violence.
Direktör said that "It is also emotional violence that children are tried to be raised as princes and princesses because this does not allow children to live and grow as children. There is no difference between being a princess and "bride". While child brides are accepted as an act of violence, characterizing girls as brides or princess is part of the violence" and added that raising a child who cannot protect herself and expect someone else to protect her adversely affects the child's development. She also stated that the different behaviours against the girl or boy are regarded as discrimination and that these are among the causes of violence.
Direktör said that gender equality is an attitude that enables the individual to be self-sufficient and opposes gender-based discrimination, and emphasized that as the basis of violence is based on the strong perception of men, the provision of gender equality is the most important element preventing violence. Direktör also said that "Parental interventions in the private sphere of children are among the additional frequent types of emotional violence. Violence is not a one-time act, but it continues. Therefore, in order to oppose beyond saying "no", it must first be realized and the struggle must not be abandoned".
Bahtiyar: How the incidents are interpreted is decisive in the formation of anger
Bahtiyar said that "Anger arises in situations that contain frustration, threat or injustice. Anger can be caused if physical or psychological needs are not met or prevented from being met. We need to understand the anger phenomenon because there is only one step between anger and aggression" and underlined that How the incidents are interpreted is decisive in the formation of anger. "when anger arises, how it is expressed varies from person to person. Some people can't express their anger and keep it inside. Some people become aggressive when they get angry" he said. He also said that "Proper expression of anger is an acquired skill. Clinical psychologists use anger control methods to help individuals with anger problems. Skills development activities take an important place in the sessions" and emphasized that with the methods used, these people could be helped to control their anger and to achieve more effective thinking and skills.