"Welcome to Mongolia" themed night organized at EUL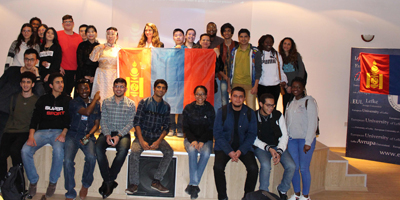 An event titled "Welcome to Mongolia" was held at EUL with the contributions of European University of Lefke (EUL) Centre of Social and Cultural Activities and International Students Club for the Mongolian Students receiving education at EUL.
Students had the opportunity to introduce their traditional food and local costumes
The event which was conducted with intense participation stated with a video display which introduced the foundation history and cultural and natural beauties of Mongolia. Apart from introducing their traditional food and local costumes, students had the opportunity to perform music and poems special to their culture. At the event, Mongolian students who organized a contest containing questions about their country gave gifts to their fellow students who answered the questions. At the end of the event, the students celebrated their national days with enthusiasm by cutting the Mongolian flag patterned cake with the Head of External Relations Department Kezban Zurnacı.
Students who stated that they are very pleased to come together in the framework of the Welcome to Mongolia event expressed their feelings and thoughts as follows:
Nomungerel Davaajav: I am a first-year master's student in the Department of Business. We organized this night to introduce our country and culture to students from different countries. We would like to thank our university for the support it gave to our night.
Noman Khnrelbaatar: I'm a first-year student at the Department of International Relations. I am very excited to organize the Mongolian culture night. Our event, which we organized last year, was even more enthusiastic this year with the participation of many student friends.
Tamazsakh Sakhezdene: I am a student of Tourism Management Department. This is a very special night for us. In the scope of the event, we introduced our own culture in our university by singing songs specific to Mongolia and wearing our local clothes.
Dulgwwn Sergelenbat: I'm a student at the Department of Business Administration. We would like to thank our university for helping us realize this special night. We will try to promote our culture to everyone in a good way. That's why I'm so happy and excited.