"Wine Culture in Anatolia" discussed in EUL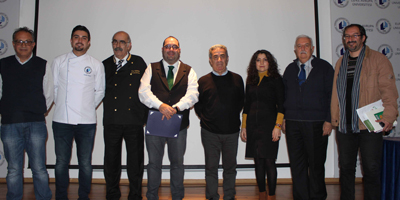 Kavaklıdere Education Coordinator Levon Bağış attended the conference on "Wine Culture in Anatolia" as the speaker, organized by European University of Lefke (EUL) Students' Dean Office and Gastronomy Club.
Bagis stated, "Gastronomy is not only about food, but about the bounties that nature has given us. This region, which we are in, is the first place where wine is produced, the home of wine. This is among the blessings that our geography has granted us. Bağış said that there were many myths about wine; sharing some from Egypt and Greek mythologies.
Armenia preserves the world's oldest winery
Bağış pointed out that wine was very important in Anatolia during the Hittites period and that even in some Hittite times the labor salaries were indexed to wine prices. Bağış stated that all the stories about wine points out Anatolia and that the only raw material in wine production is grapes and no other fruit can be used in wine production. In case of producing wine from other fruits it requires extra alcohol and sugar to be added for the preservation.
Bağış said, " The motherland of wine is where the grapes are first produced" as he added that the grapes were first grown in the region that included Armenia, Georgia and Eastern Anatolia, and that in 2012 there was a cave in Areni, Armenia, which this was the oldest known winery in the world where wine was being produced here 6 thousand years ago.  Bağış further talked about the laws on grapes of the Hittites and the significance of wine managers and stated that the wine was produced 2500 years before the Boğazkere grape production in Diyarbakır and he added historical information and literature studies to the stories he explained about the wines of Anatolia.
Following the conference, Bağış accompanied wine tasting training with the participation of Gastronomy Department students in EUL Gastronomy Application Kitchen