Workshop on "Practices of Current Physiotherapy in Geriatric Rehabilitation" held in EUL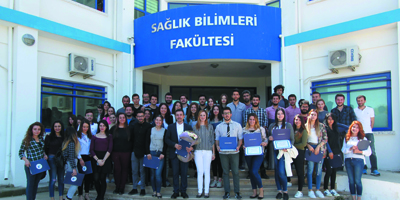 A workshop on "Current Physiotherapy Practices in Geriatric Rehabilitation" was organized by the Physiotherapy and Rehabilitation Department of European University of Lefke (EUL) Faculty of Health Sciences. Member of Hacettepe University Faculty of Health Sciences, Department of Physiotherapy and Rehabilitation Prof. Dr. Zafer Erden attended the workshop held in the Treatment Laboratories of the Faculty of Health Sciences of EUL as a speaker.
On the first day of the two-day workshop, Erden handled "Institutional Information and Physiotherapy Evaluations" and on the second day Erden dealt with "Treatment Practices and Literature Studies".
Starting with the definition of geriatrics for presentation, Erden stated that geriatrics is an area of specialization dealing with problems related to old age and relevant to old age, saying that the origin of the lemkin is "greas: old, latric: treatment and healing".
"Neither aging nor inability is a disease. Erden emphasized that, both of are the results of the life experience. Erden, stressing that these are different types of aging, says that 'Biological Aging' is a life-long phenomenon of these types, 'Physiological Aging' which involves changes in organs due to biological aging and 'Emotional Aging', which changes the way of life and life'.
Erden also talked about chronic diseases that arise due to old age. Erden stated that the diseases that emerged as scientific findings were 30.7% hypertension, 13.7% osteoarthritis, 13.7% chronic heart failure, 10.2% diabetes mellitus, 9.8% coronary artery disease and 8.2% osteoporosis.
Erdem: The elderly should choose to exercise during the cooler hours of hot and humid days
Erden stressed that, "The elderly should exercise with appropriate shoes in order to avoid injuries and in the cooler hours of the day, during the hot and humid weather, with plenty of water intake before and during exercise, and exercise immediately after meals as one should avoid not taking a breath during exercise. "
Erden also talked about the rehabilitation oriented exercises which the elderly do. Erden stated that mobility and self-care devices should be used in home and outpatient settings as well as yoga, Pilates, body awareness, Alexander technique, acupuncture and meridiline therapy from other blood-based exercises that are good for the elderly.
Erden gave various examples within the scope of the workshop and applied with participants. At the end of the workshop attended by the senior students of the Physiotherapy and Rehabilitation Faculty of Health Sciences, all participating students were awarded certificates.