Yükselen conveyed "Development Process" at EUL to locals of Lefke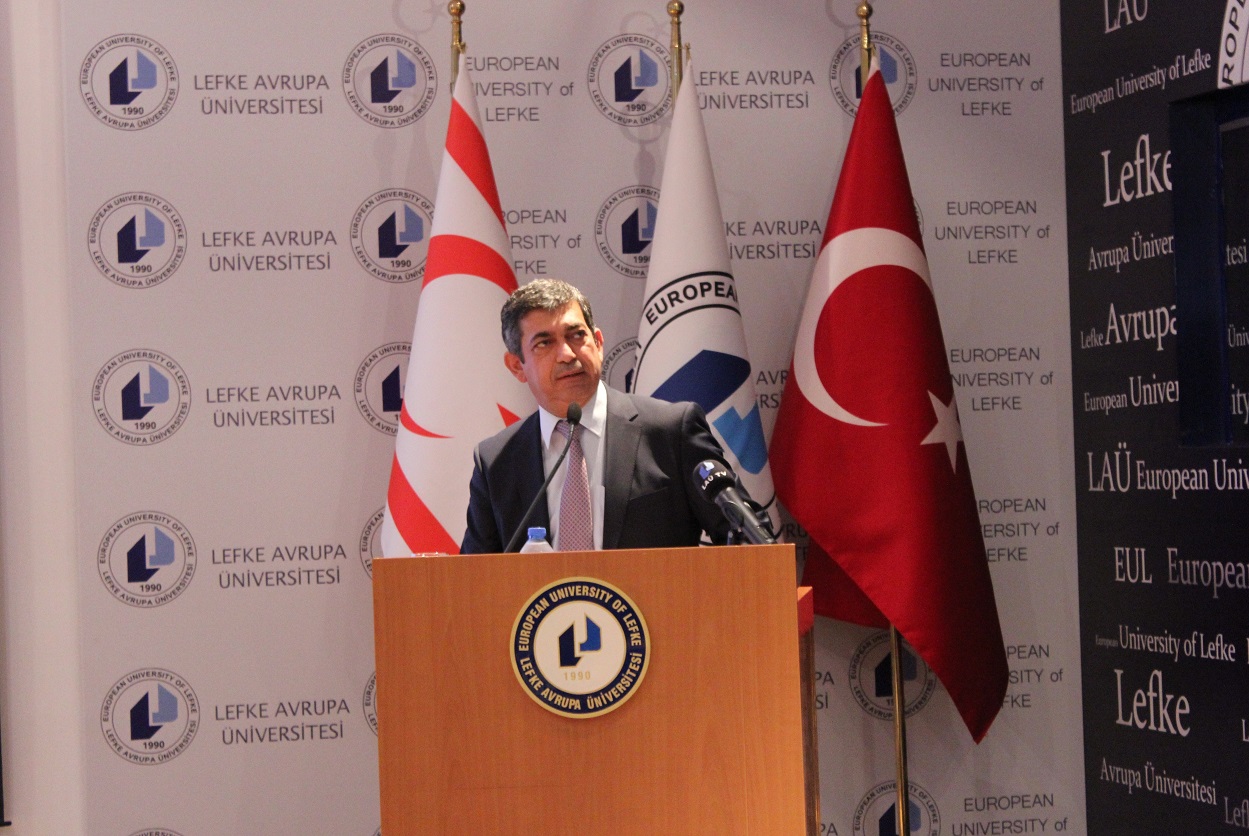 "Academic Annual Meeting", which covers European University of Lefke (EUL) 2014-2015 Academic Year was held on  October. 14th, 2015 on Wednesday at Rauf Raif Denktaş Education Complex Conference Hall.  Local deputies, EUL Chairman of the Board of Trustees and members, Mayor of Municipality of Lefke, large number of people, who are working, great numbers of civil society organizations and local lycee principals showed great participation to the meeting.
European University of Lefke (EUL) Rector, Prof. Dr. Mehmet Ali Yükselen presented his speech in 2014-2015 Academic Year Evaluation Meeting under three main headings namely: "2015-2016 Academic Year Development Process and Measurements, Evaluation of the Year Accomplished".
Yükselen evaluated 2014-2015 Academic Year
Yükselen remarked that our university has begun the new Academic Year with 7051 students in total, which includes 2526 new students when considering the 2015 Year and the registrations by stating that "When we think the socio-economic  importance of our university for the district, I am thinking of starting my speech with the number of the students".  Yükselen put emphasis on the fact that 1355 students preferred EUL when the statistical data are considered regarding the number of students in the first evaluation meeting, which he conducted in 2013.  He also stated that this number multiplied in 2015 and reached 2526.
In accordance with results of ÖSYM-LYS (Student Selection and Placement Centre- Transition to Higher Education Examination) in 2013, 870 students gave preference to EUL and this number increased 1739 in 2015.  EUL actualized the highest and considerable increase among the Universities in TRNC with 99.9 % increase in the number of the students within two years.
Break New Ground in TRNC
Yükselen, who explained that while the number of full-time faculty member was 112 in 2013, by 2015 this figure reached 243, put emphasis on the fact that 28 new departments were opened with the approval of YÖK (High Education Board) in an academic year by breaking new ground in TRNC.  Yükselen detailed these programmes respectively; 11 associate degrees namely Culinary Arts, Surgery Services, Anesthesia, Child Development, Dialysis, Disabled Care and Rehabilitation, Home Care Services, Opticianry, Radiotherapy, Medical Imaging Techniques and Elder Care, 6 undergraduates such as Mentally Handicapped Teaching, Architecture, Interior Architecture (Turkish), Computer Engineering (Turkish), Electrical and Electronics Engineering (Turkish), Civil Engineering (Turkish), 6 post graduates titled as Nutrition & Dietetics, Physical Therapy and Rehabilitation, Social Work, Special Education, Nursing and Health Management, and also 5 doctorate programmes as follows: Electrical and Electronics Engineering, Computer Engineering, Horticultural Production & Marketing, Public Administration and Guidance & Psychological Counseling.
Yükselen acknowledged investors by giving information about the infrastructure work, advanced vehicle fleet and enhanced laboratory opportunities by elaborating on his sentences to draw attention on the fact that he is glad due to students do not have problem regarding accommodation by virtue of investors, who showed regard to the evaluation meeting held last year, erected dormitories in Lefke and its surrounding.
Yükselen relayed information about the projects, which continue and will be sustained, the departments and the faculties that will newly open in the following semester within the scope of 2015-2016 Academic Year Development Plan.
Yükselen attracted notice on "Student Friendly" environment concept
Yükselen emphasized that he is expecting contributions from the participants in terms of  the necessary precautions parallel to increasing student number, popularizing "Student Friendly" environment concept, supporting and encouraging investments, which will increase social and cultural development in Lefke and in its districts.
The participants thanked Rector Yükselen due to his giving detailed information about EUL's development process that passed through within two years while 2014-2015 Academic Year Evaluation Meeting in which people showed keen participation was ending with the question and answer session.