Yükselen: It makes us proud to have successful students from the region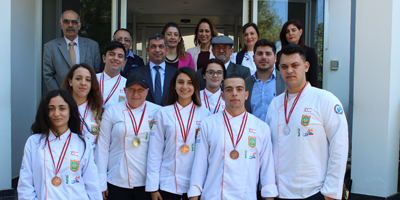 European University of Lefke (EUL) Rector, Prof. Dr. Mehmet Ali Yükselen, visited GML Tourism Department teachers and students under the leadership of Güzelyurt Vocational High School (GML) Principal Adnan Eraslan.
Eraslan said that the purpose of the visit was to thank the European University of Lefke for their support and that the support of European University of Lefke increased the motivation of the students and gave the students the opportunity to express their thoughts.
The GML Tourism Department students who attended the 15th International Gastronomy Festival and returned with a medal stated that they participated in the competition with the motive and support of the regional university EUL. Students who expressed their success in using the local products and reflected the Cyprus Culture on their menus also gave information about their participation in the EURHODIP Competition this year in Portugal as GML with the support of EUL Member of the Faculty Assist. Prof. Dr. Nafiya Güden.
Yükselen: I wish my students' success to be sustainable and continuous
Congratulating the GML Tourism Department's teachers and students for their success at the 15th International Gastronomy Festival, Yükselen said that witnessing these beautiful achievements made them proud. Yükselen expressed his happiness as a local of successful children earning such achievements as the locals of the region and their returning with meaningful awards from the competitions. Yükselen emphasized that EUL supports all high school education institutions in the region and that they are happy to act together and expressed their satisfaction with their visit by wishing the students a sustainable success to the students.
At the end of the visit, Rector Prof. Dr. Mehmet Ali Yükselen was presented a plaque of appreciation by Eraslan for his contribution.