27th Anniversary of Kazakhstan's Independence Day celebrated at EUL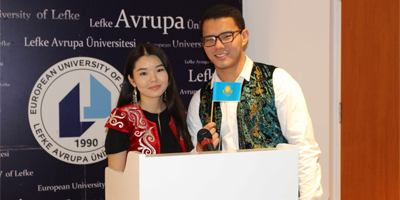 Kazakh Students celebrated their National Days with Enthusiasm  
With the cooperation of European University of Lefke (EUL) Office of Students' Dean and International Students Club 27th Anniversary of Kazakhstan's Independence Day was celebrated with lively activities at the EUL. Kazakh students receiving education at EUL, staff of EUL Student Deanery and Directorate of External Relations and many other students attended the event.
The event, which started with information about the establishment date of Kazakhstan, speech about the meaning and importance of the day, consisted video demonstrations of the cultural characteristics of Kazakhstan. In the night, besides the introduction of traditional dishes, Kazakh students, who exhibited their country-specific dance with their special clothing, celebrated their national days with enthusiasm.
Students who expressed their happiness of coming together on the Independence Day of Kazakhstan expressed their feelings and thoughts as follows:
Yana Krassavskaya: I study in the Department of International Relations and I am graduating this semester. I am going to return to my hometown with the hundreds of memories I will carry with me and my friendship that I have accumulated. I took part in Kazakhstan Independence Day organizations as long as I studied in EUL. It was a great pleasure for me both to be a great pleasure and to promote my country.
Zhanar Agatayeva: This year, we celebrate our country's 27th Anniversary of Independence, we are again very happy, proud and peaceful. Celebrating the National Day of our country at our university is a very important event. We are happy to be given such opportunities and we feel that we are cared for. Kazakhstan is a multinational country consisting of 100 different races. For this reason, it is very meaningful to perform at our university where students from 80 different countries are educated.
Salminas Yussupova Alijan: I'm a student at the Department of New Media and Journalism. We introduced our culture this year, as every year, in an event that brings us together with our fellow students. I would like to thank our university for providing us with such an opportunity and for supporting us.
Maldiv Zluemageeleva: I'm a student at the Department of Business Administration. We are proud of our country because Kazakhstan gained its independence 27 years ago. It is a great feeling to introduce our country, culture and dances to our friends from other countries with various activities.