8th EUL Psychology Days: "Environment and Human" theme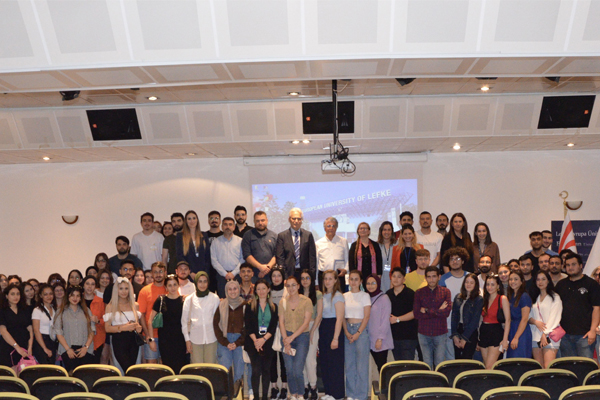 The eighth of the Psychology Days organised by the European University of Lefke (EUL) Department of Psychology was held with the theme of "Environment and Psychology". 
Delivering the opening speech of the Psychology Days, Dean of the Faculty of Arts and Sciences Prof. Dr. Zihniye Okray stated the following; It is obvious that the environment we live in, both our natural environment and the environment we create ourselves, is very important for our mental health. In some European countries, it has been proven by studies that environmental and climatic conditions cause many mental health problems. On the other hand, we experience how much the air and sound pollution in our environment affect our mental world.
After the recent natural disaster in Turkey, I think we have once again seen how destructive our environment, the land we live on, and the houses we live in are. It reminded us once again of the destructiveness of the environment as well as its protectiveness.
In the first panel on environment, public health, and psychology, chaired by Assoc. Prof. Dr. Sultan Okumuşoğlu from the Department of Psychology, Dt. Teksen Köroğlu talked about how environment and public health are related and the effects of psychology on public health. Ahmet Hızlı, President of the Lefke Environment and Promotion Association, talked about the environmental problems in the Lefke Region and their effects on human health, as well as the effects of environmental awareness and environmental protection on mental health.
In the second session titled Natural Environment, City, and Human, chaired by Asst. Prof. Dr. Doğa Eroğlu Şah, Lecturer at the Department of Psychology, Doğan Sahir from the Green Peace Movement focused on the negative effects of urbanisation and people's mental health, especially in high and cramped buildings, while Urban Planner Merter Refikoğlu talked about the negative effects of unplanned urbanisation on human and natural life.