A panel on "Global Health and Nurses: Our Graduates' Experiences of Covid-19 Pandemic" was held at EUL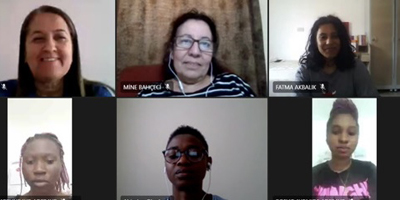 The European University of Lefke (EUL) School of Health Nursing Department organized an online panel on "Global Health and Nurses: Our Graduates' Covid-19 Pandemic Experiences" as part of the "Nursing Week" events.
Moderated by the Director of the School of Health (SYO), Prof. Dr. Meral Demiralp speeches in the panel made by, Hacettepe University Faculty of Nursing Faculty Member and Turkish Nurses Association Board Member Assoc. Prof. Dr. Gülten Işık Koç and  EUL School of Health Nursing Department 2019-2020 graduates: Abiodun Aina Olugbade, who works at Northern Care Alliance Fairfield General Hospital Manchester, and Rabia Ezgi Gücer, who works as a Diabetes Education Nurse at Gaziantep Medicalpark Hospital.
Panel started with Prof. Dr. Demiralp's celebrating the "Nurses Week" of students and colleagues. Pointing out that the International Council of Nurses (ICN) has focused on "Global Health" since the Covid-19 pandemic, Demiralp asked Işık-Koç to explain the ICN's 2022 theme content and messages.
Işık-Koç stated that May 12th is celebrated as International Nurses Day every year in memory of the birth of Florence Nightingale, the founder of modern nursing, and that ICN prepares a report in line with a certain theme every year on the "International Nurses Day" and ensures that it is spoken around the world. He said that for 2022, ICN has set the theme "Nurses: A Leading Voice – Invest in and respect nursing rights to secure global health" and focus on the need to protect, support and invest in the nursing profession to strengthen health systems around the world. Talking about the sub-titles of nursing education, leadership in nursing, delivery of nursing services, safety and health of nurses, Işık-Koç emphasized the important role of nurses in securing global health.
Demiralp thanked Işık-Koç for her valuable contributions and asked Olugbade to share what she went through as a nurse and the challenges she faced during the Covid-19 pandemic. Olugbade said that she graduated from EUL SOF Nursing Department in the year the pandemic started, first started to work as an operating room nurse in a private hospital in the TRNC, then voluntarily joined the PCR department of the hospital and then worked in the inpatient unit. Stating that the Covid-19 pandemic is a first for everyone, Olugbade said, "I did my best for my patients. While working for the NHS in Manchester I found hospitals in the UK to be unprepared and reactive, but despite all that, the staff at these hospitals were exceptional and doing their best under the circumstances. I appreciate and respect all my lecturers at EUL who have strengthened my brave heart to fight an unknown virus during the pandemic. At the end of it all, I feel motivated, purposeful, proud and complete to make an impact. What we can do now is support the world to the best of our ability by following the guidance given to us and maintaining common sense, protecting ourselves, our families and others." she said.
Demiralp thanked Olugbade for his valuable posts and asked Gücer what she went through while working as a nurse during the Covid-19 pandemic in Turkey and what it was like to be an EUL graduate. "I am one of the first students to graduate from the English nursing department of our beautiful, warm and student-friendly university, I have been working as a nurse for almost 2 years and Covid-19 has been in our lives for almost 2 years." Gücer started her speech by saying that, when the first case of the Covid-19 epidemic, which spread all over the world, was announced in Turkey on March 11th, she was in clinical practice as a student, and said that the unknown of the virus was scary for everyone. Stating that after graduation, working during the pandemic process affected her mentally and physically, and that the global availability of vaccines made positive changes in our lives, Gücer concluded her speech by saying, "I would like to thank my university and my esteemed professors for their support, even today we can feel their support and this is a great chance for all of us."