A record number of Blood donation at EUL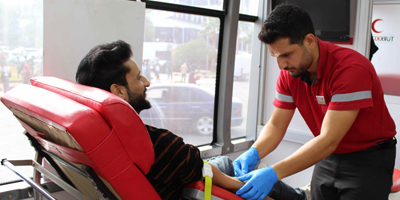 110 Units of Donated Blood
A blood donation campaign was organized at EUL with the corporations of European University of Lefke (EUL) Student Deanery, Red Crescent Club, Nursing and Arts Club and Turkish Red Crescent. A record number of blood was collected at the blood donation event held in the donation bus for two days at the EUL Faculty of Health Sciences. In the blood donation campaign where many volunteer students participated, EUL broke a record with 110 units of blood donation collected throughout the island.
Tutku: Our first and main target is universities
Şerife Tutku who is the Responsible Staff of Turkish Red Crescent from Blood Donors said that, "We are confident that individuals will be more sensitive if they know how to donate blood and what is the need for blood donation. In the previous years, we organized blood donation events twice a year in universities". Tutku also said that, "Our goal is to perform more frequent blood donation at universities this year".
Tutku: We are pleased with the number of blood donations that we obtained from EUL
Pointing out that they organized a blood donation event at EUL between the dated of 22nd and 23rd October, Tutku said that, they are pleased with the number of blood donations that we obtained with the self-sacrificing and voluntary work of Red Crescent Club, Nursing and Art Club students, and advisor instructors. Tutku finally stated that, they had an easy access to the voluntary donors and to the students at the university, and that they worked together to achieve this satisfying result.