Changing our Lifestyle is a must for ZeroHunger and a Sustainable World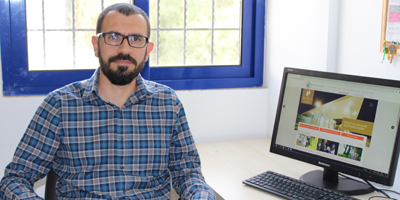 Theme of this year's World Food Day Activities is ZeroHunger
European University of Lefke (EUL) Faculty of Agricultural Sciences and Technologies Academician Dr. İbrahim Karamanoğlu made some statements on the occasion of "World Food Day" and conveyed detailed information.
Kahramanoğlu said that "16th October which is the establishment day of United Nations Food and Agriculture Organization (FAO) is celebrated as the "World Food Day". Kahramanoğlu pointed out that, in World Food Day activities which is conducted by FAO with different themes each year, subjects related to food production, consumption and safety are brought up to the agenda with the aim of attracting attention to famine and famine relief which are one of the biggest global problems and added that the activity's this year's theme is Zerohunger.
Kahramanoğlu explained FAO's theme of Zerohunger as working together to ensure that everyone has access to the safe, healthy and nutritious food they need and said that, "According to FAO's latest world report, more than 820 million people are undergoing chronic malnutrition today. While millions of people struggle with hunger, 672 million people are obese and more than 1.3 billion people are overweight". He also pointed out that, according to some FAO reports, people in various parts of the world are exposed to food-borne poisoning and death.
Kahramanoğlu listed the factors that cause famine and malnutrition as; disputes among the countries, excessive weather conditions stemming from climate change, economic problems and rapid growing obesity levels.  He said that, "Changing our lifestyle is a must for ensuring ZeroHunger and a sustainable world, however this is not enough by itself. In order to feed the ever growing world population, safe and sustainable increase in productivity is vital".
Kahramanoğlu stated that, in response to the increasing world population, the decreasing agricultural land and water resources with the deteriorating ecological balance make the increase in yield from the unit area important. He also said that, "For this purpose, high technology (automatic irrigation and fertilization, high efficiency varieties, resistant varieties, modified casing technologies etc.) and controlled input (pesticide and fertilizer) are indispensable in agricultural activities". Kahramanoğlu emphasized that, while efficiency increase is ensured, all applications to ensure food safety should be planned and controlled within the framework of scientific facts and added that, "At this point, it is necessary to include a widely false known 'true'. This is related to the 'damages ın of chemicals used in agriculture".
Kahramanoğlu; It is the dose what makes a poison "poison"
Kahramanoğlu said that, "When increasing population, deteriorating environment, human demands and needs are taken into consideration, agricultural input is needed not only in productivity but also in many ecosystems to achieve efficiency" and added that, at that point usage of correct chemical in the right time, with the right dose and with applying the waiting period, does not harm the human health. He also said that, "It is the dose what makes a poison "poison"!. In any chemical used in agriculture, it is a Maximum Residue Level (MRL) that can threaten human health and these limits are determined by Codex Pesticide Residues Committee, EPA and European Union as a result of intensive scientific studies". Kahramanoğlu said that, in this context, keeping the chemical that is used in the production process of the output, below the determined limit would prevent the possible harms of that chemical and added that, "Therefore, pesticides used in a controlled manner and integrated with other methods do not pose a risk to food safety". Kahramanoğlu listed the factors of chemical residues encountered in our country as;
Not using alternative methods in the struggle with disease and harmful weed and using pesticides which should be the last resort as a first resort
Not determining  the chemicals to be applied by experts or suggestions made by the experts on land, diseases and pests without making observations on spot,
Since pesticide usage records are not kept, if the same pesticides are used continuously, both increase the risk of residues and the emergence of new drug-resistant genotypes in diseases and pests.
Performing pesticide applications with non-calibrated tools and equipment by non-experts
Most importantly, not following the post-harvest waiting times that must be followed after pesticide application.
Pointing out that, the first serious consumer reactions to food safety emerged in Europe in the 1990s, Kahramanoğlu stated that consumers in the markets who started facing residues or other biological-physical pollutants started to sue supermarkets. He further stated that, "As a result, large retailers came together to bring the concept of GAP (Good Agricultural Practices) to ensure that the products they offer to their customers are safe and are manufactured on the basis of sustainability" and added that in 1997, the European Retailer Produce Working Group was launched as a non-profit enterprise, and EUREPGAP aims to ensure the safety of agricultural products from field to table and improve the quality of food, with the criteria and checklists it sets.
Kahramanoğlu also stated that, the Good Agricultural Practices is of great importance because it has adopted the principle of sustainability, environmental protection and fight against famine in agriculture, and that in 2007, EUREPGAP changed its name to GLOBALG.A.P in a way that covers the whole world with a change in 2007 when it has become a standard that has been adopted and implemented in over 80 countries. Pointing out that a total of 47 producers, including pomegranate and citrus fruits producers, have been included in the certification, which started in 2009 in with the certification of pomegranate, potato and artichoke products in our country, Kahramanoğlı also said that it is no coincidence that these producers have been able to sell products to European markets after many years thanks to these certificates.
EUL works for sustainable access to safe food through the services it offers.
Kahramanoğlu said that, "'Food safety should be the top priority of countries when the fact that every individual has to be nourished for living is taken into consideration. For this, production needs to be professionalized", and added that professionalization in production would bring benefits to both producers, consumers and the country. Pointing out that, plans and production should be conducted in the direction of the needs and resources (in particular, water) of our country, Kahramanoğlu said that, "At this point, universities which contribute to the fields Education, Research and Community have a major role to play. In this context, the European University of Lefke, Faculty of Agricultural Sciences and Technology carries out many studies in this field. Our university is working for sustainable access to safe food with the agricultural engineers it educates, its researches and the services it provides to both producers and consumers.