"Çul Çürüten Kumpanya" named theatre screened at EUL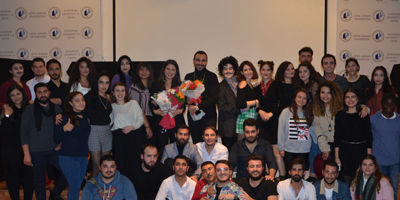 "Çul Çürüten Kumpanya" named theatre organized by the European University of Lefke (EUL) Centre of Social and Cultural Activities and Theatre Club was screened at Rauf Raif Denktaş Conference Hall.
 Theater screening provided students with a fun time 
The play which was directed by Özlem Bayer and co-directs by Anıl Bayram Alkan included Anıl Selçuk, Arif Temiz, Ayça Kasımcan, Bayram Alkan, Beril Dilek, Beyza Tektaş, Fatih Ilpars, Fatma Büşra Uzun, Ferdi Ökmen, Furkan Korkmaz, Furkan Üzüm, Halil Başün, Hamdi Aras, Mert Tosun, Mustafa Yılmaz, Nathan Rinomhota, Oğuzhan Poyraz Özçetin, Ömer Turgut, Sercan Oğuz, Süeda Nur Gül, Yağmur Akdağ, Yunus Aktaş, Yunus Karafakılı, Zeki Erözkan and Zuhal Karaslan as players. . The costumes and decor of the theater show, which included Can Burak Çağa, Şerife Sultan Kırkpınar, Mizgin Karak Keçi and Zeynep Kahraman as the technical team, were prepared by EUL Theatre Club.
Karafakılı: We are more like a family than a student community 
Giving information about the event, the head of EUL Theatre Club Demir Yılmaz Karafakılı said that "EUL Theatre Club is known for its comedy plays every season. EUL Theatre, which could not stop the audience from laughing once again, met with the audience with its four sketched play called Çul Kumpanya. As a club, we are very happy to have filled the hall every time".  
Bayer: We are happy to meet the audience's applause 
The director of the play Özlem Bayer "I'm very excited, being here and on this stage is very different. I have been a member of this club for years and I am the director of this club. We put a lot of effort into it, and we have finished our rehearsals without any problems since the day we started. We're happy to meet the audience's applause".