Date palm product introduced in Lefke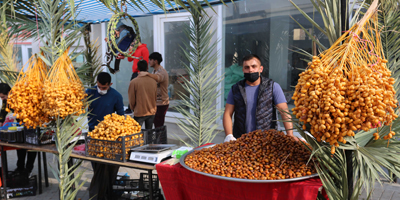 In order to contribute to the promotion and marketing of the date palm product, for which festivals are held every year, a different event was held this year due to the pandemic.
EUL, as a university, provides all kinds of support to the events that are traditionally held in the Lefke Region and reflect the culture of the Lefke region, and this year also contributed to the Date and Local Product Market held at Cittaslow member Lefke, which is famous for its green nature as well as its local products.
European University of Lefke Television (EUL TV) interviewed the Mayor of Lefke Aziz Kaya and the President of Lefke Tourism Association Hasan Karlıtaş before the event, allowing the event to be announced to the public.
In the market, where only regional producers had the chance to sell their local products, especially date products and flavors produced from dates were included.
The President of Lefke Tourism Association, Hasan Karlıtaş, stated that they are organizing a Sunday event instead of a festival this year due to the pandemic, and said that around 30 stands were opened from the regional producers in the market and that they aim to bring together local products with consumers.
Mayor of Lefke Aziz Kaya stated that dates have economic value as well as visual beauty in Lefke and stated that they would normally organize the 10th Date Palm Festival this year, but they organized such an event to support producers due to the pandemic.