"Errorless Teaching Methods" discussed at EUL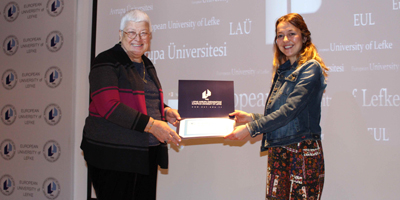 European University of Lefke, Education and Research Center for Children with Special Needs (ÖÇEM) organized a conference themed "Errorless Teaching Methods". Academician of Gazi University Faculty of Education Assoc. Prof. Dr. Çığıl Aykut attended the conference as a speaker.
Aykut stated that Errorless Teaching Methods are gathered in two groups as; teaching methods in which response tips are presented and teaching methods in which stimulus tips are presented. Aykut stated that response tips are behavioral patterns presented by the teacher in order to ensure that the student is in the correct response, and added that all of the various types of response tips are common to all, verbal-sign clues, modeling and physical assistance. Aykut stressed that the stimulus tips are the instructions made by the teacher to make the student react correctly.
Giving information about the errorless teaching methods that make use of response tips Aykut listed these methods as; constant time delay procedure, progressive time-delay, simultaneous prompting, pre-behavior hint and test, systematic withdrawal of hint, pre-behavior hint and withdrawal of hint, progressive assisted instruction, increasing hint.
Aykut listed the stages of learning as acquisition, fluency, persistence and generalization and explained acquisition as being able to display a behavior that could not be displayed at 80%.  Aykut said that "The aim of this phase of new learning is to help the student to correctly perform the desired behavioral change,". Aykut explained the concept of persistence as continuance of the behavior or behavioral chains that the student earned after the instruction. Aykut defined fluency as an explanatory process to be followed in order to make the acquired behavior at normal speed, and as an exhibit under different conditions from the conditions in which the general learner learned the behavior.
After the question-answer part of the conference, Chairperson of the EUL Department of Special Education Prof. Dr. Ayşegül Ataman presented certificate of appreciation to Aykut.