EUL academician Açıkada shared information on physical activity and Covid-19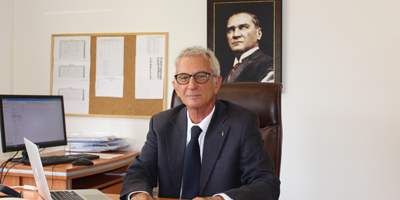 "Regular exercise is important in protecting the body against diseases"
European University of Lefke (EUL) School of Physical Education and Sports Director Prof. Dr. Caner Açıkada made statements on the subject of "Physical Activity, Training and Covid-19".
"It is known that regular exercise is essential for the body's immune system every day and that protecting the body against disease is as important as a good and balanced diet daily. Saying that we wash our face daily, brush our teeth, sleep and eat, we need to do our daily exercise for our health, "Açıkada said. He stated that physical activity is necessary for people of all ages.
Açıkada: People of all ages need to keep the body immune system high
"The World Health Organization has prepared exercise prescriptions that are essential and especially for aging individuals. Saying that it is obvious that doing daily exercise becomes more important in these days when Covid-19 is spreading rapidly, Açıkada said, "While the pandemic is closed to protection purposes and most of the collective activities are stopped; He drew attention to the necessity of doing sports exercises that can be done at home to keep the body immune system strong individually. Stating that the World Health Organization recommends at least 60 minutes of exercise a day to people between the ages of 5-17 and that this period can be increased in terms of health, Açıkada continued his words as follows; He pointed out that especially strength exercises that improve the heart and circulatory systems are important, that more intense exercises should be added to them, and that it is important to do strength exercises for not less than 3 days a week to strengthen muscles and bones.  For individuals between the ages of 18-64 and over, it is recommended to do at least 150 minutes a week and not less than 10 minutes each time, heart and circulatory system based endurance exercises, at least 75 minutes more vigorous exercise and at least two days a week strength exercises. It has been stated that 150 minutes can go up to 300 minutes or more in the future due to health contribution. After the age of 40, it is seen that due to some effects of aging, weight gain and these weights are gained as fat weight, and men and women gain weight. For this reason, a little change in our eating habits should be followed by eating less; It has been suggested to focus on vegetables and fruits with higher vitamin, mineral and fiber content ".
Açıkada, "The American Sports Medicine Association in 1990's declared the criterion of" regular exercise "as training at least 2-3 per week. He changed this criterion to "physical activity every day" in the following years. For this reason, it has been suggested to make exercise a habit every day. "It should be known that it should be done at home or outside, based on the fact that the body immune system must be strong to be protected from Covid-19."
"The athletes who trained individually or for the team had to stop training and matches due to Covid-19. It should be known that "deconditioning" occurs when the athletes who do sports regularly do not interrupt their training. Deconditioning causes the loss of sports-oriented features in some sports branches; Some of the features cause the practices in the sport branch skill and technique to be negatively affected. In the application of skill and technique, decision-making and application of some skills and techniques under the pressure of various intensities and rivals are weakened. "Açıkada stated that people who do regular sports should at least maintain their general endurance, strength, speed and quickness characteristics.
Açıkada stated that besides wearing masks, maintaining social distance and clean hands; Noting that everyone of all ages should keep the body immune system strong, he concluded his words by stating that one of the important ways to keep the body immune system strong is to do physical exercise.