EUL Academician Ataman drew attention to the importance of providing appropriate education to gifted children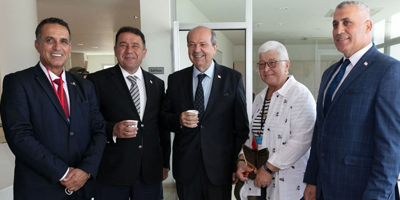 EUL took part in the Workshop on the Education of Gifted and Talented Children organized for the first time in the TRNC by the Education Joint Services Department, Psychological Counseling Guidance and Research Branch of the Ministry of National Education and Culture.
The Scientific Committee of the workshop, which was organized with the aim of ensuring the sustainable start of the education of gifted and talented individuals, was chaired by the Head of the Special Education Teaching Department of the European University of Lefke (EUL) Prof. Dr. Ayşegül Ataman.
Delivering the opening speech at the workshop opening meeting, Prof. Dr. Ayşegül Ataman stated that the most neglected children among the group of children with special needs are gifted and talented children, and stated that Turkish society led the way in this regard in the historical process, by choosing the ENDERUN school in the Ottoman Empire, which was sovereign for more than 600 years, and chose the children of non-Muslim subjects for state administration She stated that he trained in the inner palace school with a 7-year education process and that western sources accepted this institution as the first institution for gifted people.  Ataman said, "By enacting a special law for İdil Biret and Suna Kan in 1948, the state took the raising of these two wonderful children with musical talents under the guarantee of the state." She announced that support training was given at the Art Centers (BİLSEM). Ataman also conveyed information that the most valuable assets of countries are to raise creative, productive and inventive people at the highest level in line with their talents, that if we want to catch up with the age, we must provide these children with appropriate education, otherwise their talents will become dull and they will become brain drains.
Transferring information about gifted children, Ataman said that when families have general information about child development, they correctly identify the abilities of gifted children. She stated that in society, some families generally want to have gifted children, while some of them have concerns about many issues.
Finally, President Ersin Tatar, Prime Minister Ersan Saner, and Minister of National Education and Culture Olgun Amcaoğlu emphasized the importance of the issue and stated that they would give the necessary support. Ataman added that in the workshop held on 15-16 June, the vision, mission and action plans of the subject were prepared in four committees and conveyed to the relevant parties.