EUL Academician Ekinci presented verbal notices in Austria and Korea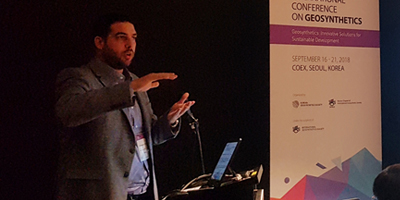 European University of Lefke (EUL) Faculty of Engineering Department of Civil Engineering Academician Assist. Prof. Dr. Abdullah Ekinci attended 26th European Young Geotechnical Engineers Conference which was organized by International Society for Soil Mechanics and Geotechnical Engineering at the Graz technical University as an invited speaker.  In the conference in which he represented EUL, Ekinci presented his study titled "Evaluating Shrinkage Behaviour of Stabilised Cyprus/Kythrea Group Clays Using Close-Range Photogrammetry and Free Shrinkage"
Ekinci was among 57 invited speakers representing 27 European countries
Ekinci pointed out that he was among the 57 invited speakers representing 27 European countries and added that he conducted his presentation representing T.R.N.C and EUL. Ekinci also stated that in the last part of the conference in which the recent developments in the fields of Soil Mechanics and Geotechnics were discussed, the project which will produce energy with the routing of Murkraftwerk river water, which is being built on the Mora River that divides the of Graz into two was also analyzed. Ekinci underlined that according to the field review, the project will supply 20% of the energy tender of Graz with the 17.7 Mw complete green energy production.
In addition to the conference in Austria, Ekinci also attended the 11th International Conference on Geosynthetics, organized by the International Geosynthetics Association, in Seoul, Korea and presented his study titled "Effect of Fiber Surface Roughness on the Shear Bevaiours of Fine and Coarse Grained Sand". Ekinci pointed out that 451 presentations from 42 different countries took place and 1239 participants from 66 different countries took part in the conference and added that The International Society of Geosynthetics was founded in Paris, France in 1983 and has 43 representatives and more than 4000 members worldwide.
Ekinci also stated that he has represented the European University of Lefke as a delegate in the General Assembly held within the scope of the conference and added that he has voted in the general assembly in which Prof. Dr. Chungsik Yoo was elected for the presidency of 2018-2022 period.