EUL Academician Ergin made some statements on the Occasion of Breast Cancer Awareness Month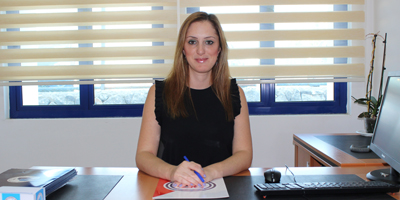 Physical Activity reduces the risk of Breast Cancer
Head of European University of Lefke Faculty of Health Sciences Department of Physiotherapy and Rehabilitation Assist. Prof. Dr. Gülbin Ergin made some statements on the occasion of 1-31 October Breast Cancer awareness month and conveyed information on the relation of breast cancer and physical activity.
Ergin said that, "Breast cancer affects one in every eight women and is among the most common types of cancer among women". Ergin pointed out that that breast cancer is the second most common cause of cancer-related death among women, and that the breast cancer develops in the milk glands and epithelial cells in the breast tissue, and the first finding of breast cancer is frequently manifested by a mass in the breast.
Ergin listed the risk factors that may cause breast cancer as; family background, early menarche age, late menopause age, having first child in late age, short term breastfeeding, obesity, poor environmental conditions (smoking, alcohol use) and physical inactivity and added that many of these risk factors could be controlled and that the rate of developing the disease could be reduced.
Weight gain increases cancer incidence by approximately 25%
Pointing out that, with vital tendencies such as increasing the level of physical activity, the risk of breast cancer can be reduced, Ergin said that physical activity is an important part of healthy life, as a result of weight gain and inactive lifestyle, the incidence of cancer increases by approximately 25% and added that it has been proven that regular physical activity has an effect on preventing breast cancer.
Ergin said that, "Conducted studies show that physical activity reduces both the risk of breast cancer and prevents the recurrence of the disease and it also provides a better quality of life" and added that types of physical activities can be gathered under 4 main titles and listed these titles as; occupational, housework, recreational and transportation-related activities (walking, etc.)
At least 5 days per week 30 minutes of daily activity is important for being protected from breast cancer
Ergin said that, "Especially recreational activities are more effective in reducing cancer risk. In order to protect against breast cancer, moderate physical activity should be performed at least 5 days a week, at least 30 minutes daily (preferably 45-60 minutes). It has been found that, women who have intense physical activity program can reduce the risk of breast cancer by 26%". Ergin also pointed out that, although the activity at all times of life is effective in cancer prevention, the most significant decrease is seen in women who have acquired lifelong exercise habits and added that the proportion of women who perform regular physical activity is less than one-third.
Ergin said that, "As a result of developing treatment approaches, the survival rate after breast cancer increases, but the long term treatment of cancer and the side effects of the treatments lead to a decrease in aerobic capacity, muscle strength, body composition and quality of life. Therefore, breast cancer treatment requires a multidisciplinary team approach with different tasks and powers such as surgeon, radiologist, oncologist, physiotherapist, nurse, nutritionist, psychologist and psychiatrist". Ergin also emphasized that, in this team, physiotherapists have a very important role in increasing the quality of life of the patient by evaluating the functional abilities of the patients by using the exercise and specialized physiotherapy methods in the patients who have pains in the shoulder area of treated breast and sometimes in the whole shoulder, lymphedema, musculoskeletal stiffness which may arise due to fatigue and inactivity stemming from the long-term effects of the disease.
Consult the physiotherapist, add movement to your life and stay healthy
Ergin stated that implemented exercise programs in the process of treatment support the physical, functional, cognitive and psychological condition of the patients and added that implementation of an exercise program after the diagnoses of breast cancer has an effect on the protection of body composition after surgery, the reduction of prone to depression, the reduction of side effects of treatments such as radiation and chemotherapy, the improvement of function, the prevention of weight gain and reduction of muscle and bone loss in other words on the whole well condition of the patient.
Ergin said that "Since the complications that occur in each patient are different, exercise programs must be prepared for the individual", and added that the physical and functional deficiencies of the individual should be evaluated by the physiotherapist and the appropriate exercise program should be prepared and the patients should be directed to group exercises such as yoga, clinical pilates and tai chi to improve the quality of life of breast cancer patients with the progress in treatment.
Ergin also said that, "As a result; being physically active prior to breast cancer diagnosis; helps to ve protected from disease, being active during cancer treatments; reduces the side effects of treatments and supports a rapid recovery process; and being active after treatments decreases the risk of recurrence of the disease" and added that for the most appropriate physical activity program, consult a physiotherapist, add movement to your life and stay healthy.