EUL Academician Gülçin Çam draw interest on "Child Rights"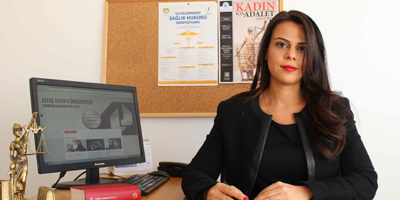 Let's Give an Ear to the Voice of Child 
European University of Lefke (EUL) Faculty of Law, Commercial Law Department Academician Gülçin Çam made some statements on "Child Rights".
Pointing out that, regardless of their language, religion, race or sex every child has the right to life, education, be healthy, to be heard, and to be treated fairly, Çam described child rights as an concept that covers rights such as education, health, living, accommodation; protection against physical, psychological or sexual exploitation.
Çam said that "Until providing "humanely" conditions to children that they deserve to live in; they have come face to face with severe sanctions such as ill-treatment, punishment by trial and death." Çam stressed that child rights become a current issue after the formation of perception that besides being a human, children has different needs when compared to adults.
The most comprehensive human rights declaration is acknowledged as the UN Convention on the Rights of the Child dated 20th November 1989.
Çam said that the Convention on the Rights of the Child, which is accepted in 193 countries, does not have any legal basis in the United States and Somalia, and added that this convention covers the rights of children to life and development, to have a name and nationality and to protect it; access to health services, education, a decent standard of living; the right to protection from abuse and neglect, from economic exploitation, from drug addiction; the right to time for leisure, recreation and cultural activities; freedom of thought and expression, expressing views on matters concerning children, freedom of association, fundamental rights of children with special needs and rights of children with disabilities.
Çam stated that UN Convention on the Rights of the Child is the most comprehensive legal act that is regulated to protect child rights and said that "These rights are legally based not just because they are endowed to them but because they are individuals who needs protection".
Every act of child abuse should be band
Çam said that the Turkish Republic of Northern Cyprus has approved the UN Convention on the Rights of the Child in 1996 and signed the International Labor Organization (ILO) Convention on Emergency Measures for the Prohibition and Abatement of Unclean Child Labor.
Stating that in the TRNC, there are provisions of law related with children at the national level in Children Act, the Children's Criminal Code, and Penal Code, Çam said that children's courts, where children are subject to a different order than adults, have not yet been found in the judicial scheme.
Çam said that "According to Amnesty International, in underdeveloped and developing countries, there are excessive violation of children's rights including negative factors such as labor exploitation, violence, and illegality and USA which is one of the richest countries in terms of economic development, is placed near the top in terms of child famine and homelessness".
Çam underlined that some of the children who experienced physical and psychological violence in the family and in the immediate vicinity were victims of sexual abuse at the same time and said that "They are also subjected to the same treatment in social services, educational institutions or prisons". Finally, Çam concluded her speech by pointing out that no form of behavior that would affect a child's health, either physical or psychosocial, is unacceptable.