EUL Academician Günebak Advised about Nourishment on Holidays and Journeys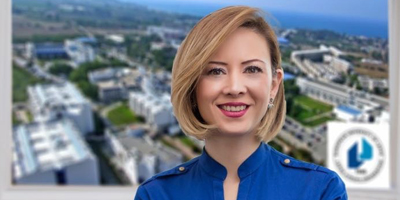 Academician of European University of Lefke (EUL) Faculty of Health Sciences Department of Nutrition and Dietetics Assoc. Prof. Dr. Ç. Tuba Günebak advised about nourishment on holidays and journeys planned for the summer.
Günebak said that, "Nutrition will be the cornerstone and major issue of our lives as long as we breathe" and gave important advices on how to be nourished and the things that should be paid attention.
You can prefer healthy snack alternatives such as 2 plain waffles or whole grain bread with small packed mild cream cheese to consume during and before the journey.
Choose a nutritious snack option that is small enough to take up space in your suitcase to avoid being deceived by the treats offered at the hotel or at the cottage during the holiday. E.g; oil seeds (such as walnuts, raw almonds), dried fruits, oatmeal, sugar-free protein bar.
Do not neglect to drink water.
One way to protect your body water rate is to avoid drinking alcohol before you travel or to limit your intake of alcohol. If long-term plane trips causes tension you can try a relaxing tea instead of alcohol; daisy.
You must have heard of the tourist diarrhea. If you have a sensitive gastro-intestinal system, you should definitely put a probiotic case in your suitcase to help you regulate your intestinal microbiota.
You want to try everything? Make a list of the things you want to taste and taste one each day. Sharing portions is a good alternative.
Is there alcohol on the dinner menu? Prefer wine. Wine supports your heart health with the resveratrol it contains. Do not forget that a glass of wine is equivalent with 1 slices of bread and 1 of walnut energy (calories), thus do not prefer these in your nutrition program that day.
If you are not sure about the nourishment & water hygiene at the place that you visited;

Boil your water before drinking it.
Do not prefer ice in your beverages.
Order and buy packed drinks.
Do not brush your teeth with tap water.
If you are worried about the hygiene quality of the water, drop two drops of tincture of iodine into one liter of water and wait for half an hour. Your sanitized water is ready.
Do not consume raw nourishments.
Do not choose to buy food from street vendors.
Do not choose sauced and spicy food.
Egg salad, potato salad, pasta salad, some sauces like homemade mayonnaise, ice-cream with unknown origin, unpasteurized milk, fresh cheese, long-awaited cooked meals.
At each main meal, prefer food from each main food group on your plate; one dairy group (milk or yoghurt or ayran or kefir), one meat group (cheese or fish or white meat or red meat or egg), one whole-grain food (whole-grain bread or bulgur and buckwheat or dried legumes), and finally one or two small vegetables or fruit.
If you are thinking "I wish I did not have post flight oedema", You should;

Prefer less salty food the day before your flight; do not consume pickled foods and  olives,
Eat fresh vegetables and fruits to minimize both your body's water loss and to minimize the effects of air exchange on the immune system.
Add freshly squeezed lemon juice, or well washed lemon rind to the water you drink
 Drink green tea, white tea, wild clary, cherry stalk tea on the day of flight and the next day,
Eat pro- and prebiotic foods starting from a week before the flight.