EUL Communication Days have started – "Strategic communication is the job of communication professionals!"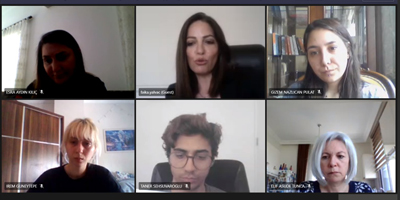 The first guest of the "Communication Days" event series organized by the European University of Lefke (EUL) Faculty of Communication Sciences was Public Relations expert Faika Öznaçar. Öznaçar, who made important statements in the intensive online interview, touched on the place and importance of public relations during the pandemic process, "strategic communication; "It should be managed by communication professionals."
Starting her speech by stating that "we are going through a period in which we have to adapt to changes in many ways", Öznaçar said, "The epidemic that affected the whole world caused changes in many areas, especially in social life and business world." Stating that this change is inevitably reflected in the management and communication approaches of brands, Öznaçar said that the social interaction of brands with their target audiences continues through online platforms, and that brands change not only communication tools but also communication approaches. Öznaçar said that the pandemic emphasized hygiene in the provision of products and services, especially health for brands, benefit and service-oriented communication was adopted, online customer services, shopping, appointment, payment habits, training programs, launching activities such as online customer service, shopping, appointment, payment habits, training programs, and increased accessibility.
In her speech, Faika Öznaçar stated that awareness and social responsibility projects are among the communication activities that brands focus on in this process, as well as the importance of internal communication efforts to increase the motivation, efficiency and performance of the employees. Öznaçar stated that although there are many limitations due to the pandemic, brands are in a competitive process in which they should come up with creative ideas.
Drawing attention to the changing structure of the consumer, Öznaçar underlined that the brands evaluate the goods offered to consumers not only with its price and quality, but also with the benefit it offers to the society. Emphasizing that the process has many opportunities in terms of the communication of brands in this process, where the importance of social benefit becomes even greater, Öznaçar pointed out that the strategic communication approach gained more importance in this process and therefore the process should be managed by communication professionals.
"Communication Days" activity program organized by EUL Faculty of Communication Sciences
'Panel with Journalist Serhat İncirli, Journalist Hasan Hastürer, Journalist Hasan Erçakıca and Lawyer Şahap Tokatlı on "Press and Freedoms" due to the World Press Freedom Day on Monday, May 10 at 14:00.
 Interview with Cartoonist Mustafa Tozakı on Tuesday, May 18 at 14:00 – workshop
 Interview with Pulitzer Prize-winning Turkish Journalist / Photojournalist Murad Sezer on Saturday, May 22, at 14:00