EUL Continues to Invest on Health Laboratories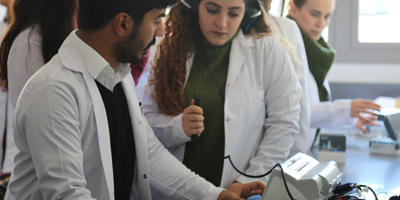 Conscious occupational skills are gained in fully equipped laboratories
European University of Lefke (EUL) continues to make great investments on the infrastructures of health laboratories.
EUL continues to provide fully equipped laboratories for the students to receive the best education in the health sector which practice is crucial. EUL has established Audiometry and Electro-Neurophysiology Laboratories, offering students the opportunity to practice conscious professional skills in fully equipped laboratories.
Students are given the opportunity to practice the theoretical knowledge they've learned in the Audiometry Laboratory
Giving information about the Audiometry Laboratory which is established within the body of EUL, School of Applied Sciences President Assist. Prof. Dr. Besim Özyel said that in the laboratories equipped with high technology, students can work with equipment such as Audiometer, Timpanometer, ABR, Emission and Hearing Devices. Özyel expressed that the laboratory in which the necessary equipment's are available for the students to complete the theoretical lecture is established with the aim of preparing an environment in which students can develop themselves in the best way to make their profession better in the future.
The Electrourophysiology Laboratory is equipped with modern devices
Özyel pointed out that in the Electrourophysiology Laboratory established within the body of School of Applied Sciences neurophysiological methods are used for the analysis of cognitive and behavioral functions of the brain and for the detection of diseases caused by impairment of these functions and this means students who are taking education in the electro-nephysiology program are able to use Electroencephalography (EEG), Electromyography (EMG) and Polysomnography (PSG) devices under the supervision of specialist physicians; and they acquire the ability to analyze the potentials of brain stem stimulations and visual arousals. Özyel said that the laboratory consists of EEG monitoring room, EMG shooting room and Polysomnography room equipped with modern technology new electro-nephysiology devices and Nicolet Viking Quest EMG / EP device and Synergy software, Nicolet V32-32 Channel Digital EEG device, Polysomnography (PSG) devices as laboratory software.