EUL hosted the region's elderly people at its new facility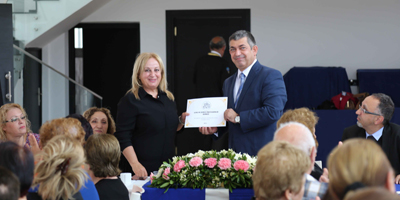 The European University of Lefke organized a meal at the EUL LOUNGE Gemikonağı, for the elderly in Lefke and the region. Rector Prof. Dr. Mehmet Ali Yükselen, Chair of Leading Women of Lefke and its Region Association, Suziye Zafer and members of the board of directors of the association also attended the dinner where a large number of elderly people attended.
Yükselen stressed that it is a source of happiness for them to be able to contribute to the activities of Suziye Zafer, the Chair of Leading Women of Lefke and its Region Association, and the management board. He added, "As a university, we strive to walk as much as we can with our citizens in our region." Yükselen said that last year's activity was more happening with more attendance and that it is happening to come together with the elderly at certain periods every year and to be able to share updated information about the university's development and activities with such organizations.
The Chair of the Association Zafer, starting her speech as stressing the thankfulness to EUL Rector Prof. Dr. Mehmet Ali Yükselen for his support to the Association, added that they are very satisfied to see that Yükselen as an original resident of Lefke, contributing to the region with such an enthusiasm. Zafer underlined that the events lead by Rector Yükselen usually accommodates the elderly and making them happy. Zafer added that EUL LOUNGE is a place which will bring liveliness to Gemikonağı and Lefke, and this surplus shall be regarded as an example for others. Zafer presented a certificate of appreciation to Yükselen for his support to the association.
The elders, who stated that they had the happiness of meeting organized by EUL meal, expressed their pleasure:
Seher Öztürk: We had a very nice day together with our friends. For this, we thank. Rector. Prof. Dr. Mehmet Ali Yükselen very much. We wish our other days to be like this.
Cemile Boğaç: I am very happy that EUL has come together with us with such activities in mind.
Ayla Sabit: At first I did not want to come to the event, I took part with the insistence of my neighbor. I had a very nice day and I am very happy. Many thanks to EUL.
Zalihe Kutret: I participated in this activity last year, and EUL having been considered us and organizing meals for us again this year was an exemplary act.
Hatice Sabrioğlu: I thank European University of Lefke for organizing an event and welcoming us to their new venue very kindly.