EUL represented at London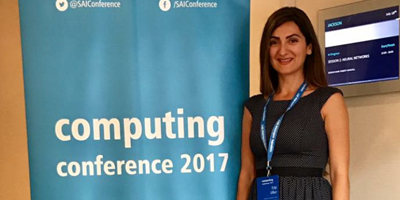 European Univeristy of Lefke Computer Engineering Department academician Asst.Prof Ezgi Deniz Ülker represented EUL at the Computing Conference held in London with her "A PSO-HS based algorithm for optimization tasks" titled presentation.
Ülker said that the Computing Conference (SAI -2017), which is held in Europe every year, with the attendants of more than 50 researchers from continents of Europe, America and Asia, with the aim of participating and presenting, was held in London this year. Ülker expressed that the purpose of the conference was to bring researchers together and industry representatives and share innovations especially in the field of computers and innovation systems.
While giving information about her work, Ülker said that she developed a new hybrid algorithm by combining Particle Swarm Optimization and Harmony Search algorithms as an artificial intelligence application and stated that she is working on solving complex problems in the engineering field by using the same algorithm.
In the study with the experimental sets of complex engineering problems, Ülker suggested that the hybrid algorithm which she proposed showed better performance than the Particle Swarm Optimization and Harmony Search algorithms that made up the same algorithm and illustrated that the problems were solved in this way.