EUL School of Health Director Şelimen emphasized the importance of hand washing habits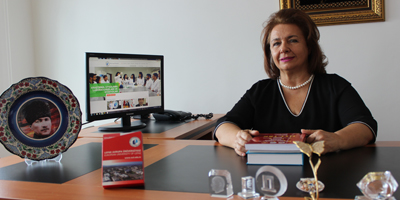 Our health friend; Water and Soap
European University of Lefke (EUL) School of  Health Director Prof. Dr. Deniz Şelimen made a statement on the occasion of "October 15 World Hand Washing Day".
Noting that hands are the main tool for bacteria and viruses to pass from one person to another, Şelimen said, "Viruses that love the respiratory tract, such as COVID-19, spread when they enter our body through droplets. However, the serious and common form of spread is through hands.
"For the last one and a half years, we have been struggling intensely with the "COVID-19" epidemic as the whole world. Almost all of us now know that we can protect ourselves from this disease with the utmost attention to hand hygiene," said Şelimen, adding that one of the easiest and most effective ways to prevent the spread of the virus during the pandemic process is to wash hands frequently with soap and water.
Şelimen; Hand washing is one of the most effective weapons in the health war we are continuing during the pandemic process.
"The World Health Organization has declared 5 May as World Hand Hygiene Day since 2009 in order to draw attention to the importance of hand hygiene. In addition, the United Nations Children's Fund (UNICEF) has recognized October 15 as the "Global Handwashing Day". Global Handwashing Day has been celebrated all over the world since 2008 and has been adopted by governments as a national celebration event", Şelimen continued her words as follows; Unfortunately, "hand washing" has not become a common enough habit all over the world. As a result of people not having the habit of hand washing or neglecting it; It becomes difficult to prevent infectious diseases, food-borne infections, diarrhea in schools, parasites, bacteria and fungal infections transmitted from toilets. Hand washing is one of the most effective weapons in the health war we are continuing, especially during the pandemic we are going through. We all do everything with our hands throughout the day, and our hands, especially under the nails and between the fingers, create a suitable environment for microorganisms. For this reason, the correct application of hand washing rules "using only water and soap" has a great effect on maintaining a healthy life.
Şelimen stated that, despite all the technological and scientific developments in the world, today millions of people and especially children; they do not have the opportunity to wash their hands with soap and water in the places where they were born, live and receive education, and that they are at a great risk against infectious diseases, he stated that this risk can actually affect other risk-free communities. It is unacceptable that people and communities who are vulnerable or whose immune system is compromised cannot use hand washing, which is the simplest method to protect their health. Because having hygiene facilities is a human right.
The habit of hand washing should be gained starting from the pre-school period.
Şelimen made the following statements at the end of her statement; We must not forget that: Hand hygiene should be part of a common approach to infection control and should be considered as a whole. For this reason, we should know that hand hygiene alone cannot be successful in preventing infection when factors such as environmental sustainability, crowded human communities and education are insufficient. It is now recognized that improving compliance with hand hygiene recommendations depends on changing human behavior. It is the duty of teachers, institutions and organizations, especially health workers, to know that raising awareness and raising awareness is a social duty in order to acquire