EUL Students came together with the residents of Yaşam Evi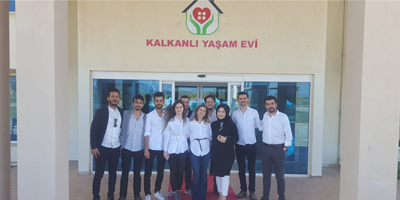 The students of Physiotherapy and Rehabilitation Club affiliated to the European University of Lefke Centre of Social and Cultural Activities came together with the residents of Yaşam Evi.  The students, who set out with the slogan "Falling is the faith of a leaf but not yours, presented their presentations to the residents of the house with the factors affecting the fall they prepared.
In the presentation which was explained that old age is a process with biological, chronological and social aspects that cannot be prevented, it was stated that changes in old age in cardiovascular system, respiratory system, musculoskeletal system, nervous system and metabolism adversely affect one's physical mobility.
Muscle Strengthening Exercises were done with the residents of Yaşam Evi
In the presentation, it was stated that falling is one of the most important health problems that can cause an increase in mortality and morbidity in the elderly and the reasons of falling were stated as; advancing age, balance and gait disturbance, drug use and the prevalence of chronic disease, visual impairment / poor vision, hearing problems and use of assistive devices. Students emphasized that these falls can be mostly in the bathroom, in the bedroom and in the kitchen, and outside the home in steps and curbs and underlined the need for the protection and development of the musculoskeletal system in order to reduce and prevent falls, since the healing process of fractures after falling will be longer and risky in the elderly.
EUL students, who were welcomed by the residents of Yaşam Evi, completed their presentations by performing muscle strengthening exercises with the residents of the living house.