EUL Students drew attention on Child Neglect and Abuse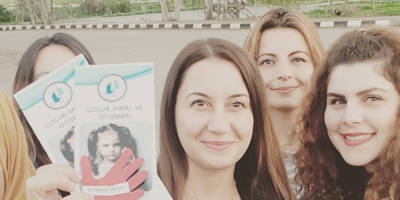 Prevention of Child Neglect and Abuse was aimed with the Project
Social Services Club which is affiliated to the European University of Lefke (EUL) Office of Students' Dean organized a project titled "Listen to Children" under their Social Services with the Society Lecture. In the project which was held under the leadership of Academician of Social Services Department Assoc. Prof. Dr. Özge Özgür Bayır, the students handed out pamphlets and conveyed information on Child Neglect and Abuse in order to draw attention to the Child Neglect and Abuse.
Bayır: Students did not forget to give small gifts to children
Giving information about the project, Bayır said that apart from the informative pamphlets that included information on Child Neglect and Abuse, senior students also gave small gifts to children. Bayır said that child neglect and abuse, which is called child maltreatment, is a traumatic event that can affect mental condition lifelong, both in short and long term, in the mental health of the individual, causing traumatic stress disorders and problems in school and career life.
Bayır also said that "This project aims to contribute and draw attention to child neglect and abuse issue" and added that the aim is to increase the knowledge level of families and to increase the awareness of the district by giving information about the neglect and abuse of children by contacting the parents especially in the region of Lefke.