EUL students organize projects for street animals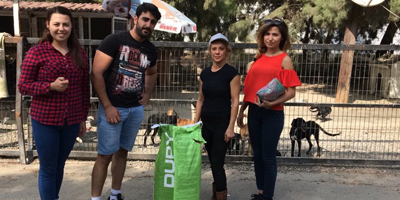 The senior students of European University of Lefke (EUL) Dr. Fazıl Küçük Education Faculty, Guidance and Psychological Counseling department, have realized a social responsibility Project entitled "HELP ME SURVIVE" within the course of Community Service Practice and the leadership of the lecturer Assist. Prof. Dr. Anıl Sayılır.
Sayılır argued that the students were organizing this project to launch campaigns for needy street animals in EUL, Lefke and Gemikonağı and to take care of the needs of street animals in these areas.
Under the project, Sayılır emphasized that they aimed to create awareness among the students and the people in need of assistance and for the animals in need of care and taking responsibility for the stray animals and they provided volunteer sponsors from the tradesmen and businesses in the region as a result of the studies of the students. Sayılır, who said that Lefke Municipality also supports the project, also stated that students continue to work on various projects for animals such as food distribution, care, health needs and water distribution.
At the end of the project, students' work and donations obtained through the aids of the sponsors were delivered to the relevant persons during their visits to the students' shelters under the coordinator teacher Sayılır.