EUL Students were informed about Cruise Tourism and Career Job Opportunities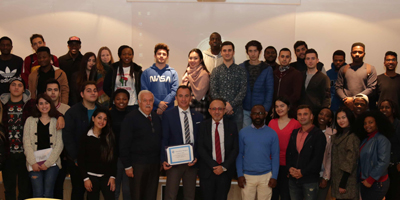 European University of Lefke (EUL) School of Tourism and Hotel Management Department of Tourism Management organized a seminar themed "Cruise Tourism and Job Opportunities". Muammer Songur, experienced cruise tourism professional and Turkey representative of Starboard Cruises attended the seminar as a speaker. Songur conveyed detailed information on cruise tourism and job opportunities to the students.
Songur gave detailed information about job opportunities in the cruise ships which has been constantly developing as a new holiday concept and attracting the attention of many tourists in the recent years and about developing cruise ships. Under the framework of the seminar, Songur explained the history of cruise ships, first passenger ship company, first trans-atlantics and the matter of Titanic which is the greatest ship accident in the history.
Examples about the opportunities offered to the passengers and consumed products were given
Songur also gave information about Royal Caribbean, Carnival, Norwegian, Disney and MSC Cruise Companies which are the 5 biggest cruise ship companies and gave examples about the opportunities offered to the passengers and consumed products. He said that in a new Mega Cruise ship which has the capacity of 2000 crew and 6000 passengers, there are 24 different A 'la cart restaurants, 23 swimming pools, 22 passenger elevators, and in the course of 1 week tour, approximately 12 tons of melon, 8 tons of red meat, 6 tons of white meat, 37 tons of vegetables and 86.000 eggs are consumed.
Giving examples from people who went abroad from Turkey for working in the cruise ships and reached their career goals with a visual presentation, Songur analyzed the required features of the students of Gastronomy and Tourism Management Departments in order to obtain job opportunities in various departments and positions on cruise ships after university life and the life and financial gain in ships in a detailed way.
By the end of the Seminar, Songur answered the questions of the students and a certificate of appreciations was presented to him by the Director of School of Tourism and Hotel Management Assist. Prof. Dr. Mehmedali Egemen.