EUL's Academician Bardak pointed out "Healthy Nutrition in Strengthening the Immune System"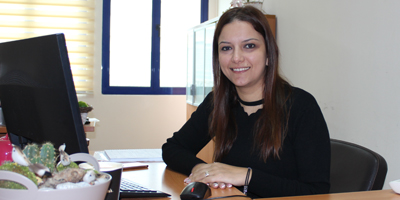 Sufficient Protein Intake is vital for strengthening the immune system
Academician of European University of Lefke (EUL) Faculty of Health Sciences Department of Nutrition and Dietetics Assist. Prof. Dr. Nazal Bardak made some statements on "Healthy Nutrition in Strengthening the Immune System" and conveyed detailed information.
Bardak: During the day we are faced with the development of disease risk by being attacked by many microbes
Bardak said that the main function of the immune system is to protect the body against the damaging effects of microorganisms, such as viruses, bacteria, fungi and parasites, which can lead to infection and added that during the day we are faced with the development of disease risk by being attacked by many microbes.
Bardak said that "The function of the immune system is to prevent the entry of these organisms into the body or to absorb or prevent them when they enter the body, or to delay their spread" and added that the immune system continues these tasks throughout life, but under certain circumstances the immune system may need help. Pointing out that the structure of the immune system is similar to the neurological system, Bardak said that "One of the most important features of the immune system is its ability to recognize and distinguish between millions of different enemies. Thanks to this feature, all the cells in the immune system first see the foreigner they encounter, save them in memory and then remember when they see it".
Bardak: We are developing a natural defense against situations that cause a reduction in resistance by eating a healthy and applying balanced diet
Pointing out that nutrition has an effect on the resistance of the body as well as on the germs, Bardak said that "We are developing a natural defense against situations that cause a reduction in resistance such as fatigue, traumas, burn, by eating a healthy and applying balanced diet".  Bardak also pointed out that alcohol is involved in our lives as a pleasure-inducing substance and said that "Alcohol, especially chronic alcohol abuse, has been shown to have adverse effects on the immune defense of the organism".
Bardak stated that apart from all these factors, some drug therapies, fatigue, excessive sports, seasonal and hormonal changes are among the factors that weaken the immune system and added that every year around 6 million children in the world die due to infections which stem from collapse of the immune system in relation to malnutrition. Bardak also said that "For this, we should pay attention take enough protein to help strengthen our immune system in our diet, especially to consume proteins, such as milk, milk products, eggs".
Bardak listed what can be done to start a healthy diet that is golden key;
– Lemon, orange, citrus, bell pepper, parsley, kiwi and grapefruit contain plenty of vitamin C; sunflower oil, almond, walnut and peanut species are also rich in vitamin E nutrients. Beta carotene, which is abundant in orange, red, and green vegetables and fruits, also provides a significant increase in the number of immune system cells. By consuming foods containing this vitamin, we strengthen the immune system and also protect from cancer. Beta crotene also provides indirect benefits by converting to vitamin A in the body.
– There is vitamin A in carrots, spinach, zucchini and tomatoes. Vitamin A increases the white cell activity in the blood to help fight cancer tumors. A medium size potato meets twice as much as the need for vitamin A daily. Other foods rich in vitamins are liver, carrots, spinach, broccoli, lettuce, apricots and melons.
– It is useful to drink at least 2-3 liters of water a day so that the cells of the immune system can maintain their activity in the organism.
– Fatty acids, called omega 3 fatty acids and abundant amino acids in protein foods, are important nutritional sources for our immune system. In addition to the treatment protocols of various diseases, the combinations of vitamins and minerals are used throughout the world to protect against subclinical diseases in order to support daily nutrition.
– Vitamins and minerals cannot be produced by the body itself, so they must be taken with food. Therefore, it is very easy to see the correlation between nutrition and a healthy immune system. Vitamins are divided into two sub-groups as fat and water-soluble. Vitamins A, D, E and K are fat-soluble vitamins, which require cholesterol for their synthesis, can be stored in fat tissue and can be released as needed. Taking these vitamins after meals can increase their absorption.
– For the body there is a group of substances as important as vitamins, and they are minerals. Vitamins cannot function without minerals. Minerals are found in the structure of bone, tooth, soft tissue, muscle, blood nerve cells. They play a role in accelerating the reaction in many biological reactions, such as hormone production and nerve conduction. Calcium, iodine iron, magnesium, phosphorus, potassium, selenium, sodium, zinc are the most important.