European University of Lefke participated at Google Drive Digital 2017 Leaders' Summit as the only University from Education Sector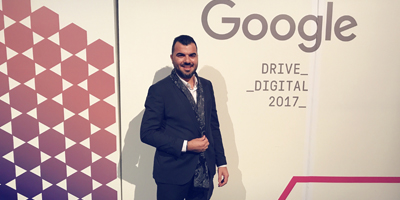 The second "Drive Digital 2017" Leaders' Summit, hosted by Google, brought senior marketing leaders from Europe, Middle East and Africa together at two-day summit in Spain's capital Madrid to observe the latest marketing trends, innovations and opportunities in the developing digital marketplace .
In the Leaders' Summit, academics of Europe's leading school INSEAD (Instituto Europe d'Affaires des Affaires) Business School which is also prominent in world ranks on master programs and leading industry experts, as well as top Google directors such as Google Spain and Portugal Country Directors, Google Marketing Director and , Portugal and Spain Director of Business Development shared information about emerging trends, strategies, real-life examples of institutions to present their products in a more effective way to address today's complex marketing by giving important information about consumers' behavior.
Günkut: "EUL keeps up with the day by following digital innovations"
European University of Lefke participated in the event which hosted nearly 250 participants from many different sectors, senior marketing experts and managers from 21 different European, Middle Eastern and African countries as the only university from the education sector. Director of Corporate Communications Mehmet Günkut represented the European University of Lefke at the event. Stating that he received information about the most used digital marketing techniques and strategies in the world, Günkut pointed out that it is important for a university to follow modern innovations in the ever-evolving digital platforms and to adapt to the renewed processes, and added that in this institutional structure, EUL keeps up with the day by following digital innovations.
At the end of the two day leaders' summit, Adolfo Fernandez, Business Development Manager of Google Spain and Portugal, and Selim Şahin, Turkey Supervisor, presented the certificate of participation to European University of Lefke Corporate Communications Manager, Mehmet Günkut.