Famous Chef Ayvaz Akbacak shared his Experiences with EUL Students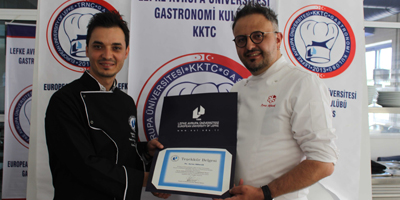 European University of Lefke (EUL) Gastronomy Club hosted Chef Ayvaz Akbacak. In the event, Chef Akbacak presented the subtleties of the profession to the students by making demo experiments.
Famous Chef Akbacak who shared his experiences with the students of EUL Gastronomy and Culinary Arts Department expressed his gratitude for coming together with the EUL's Gastronomy Students and having the chance to observe the Cyprus Cuisine. Akbacak said that "To be a famous chef is not to have many followers on social media, but to add something to the history of gastronomy" and gave advices to the students.
Akbacak shared with the students the details of professionalism and the tips of cooking
In the demo part of the event, Akbacak shared the details of "Seabass Wrapped in Potato" which is his trade mark dish.  Akbacak also shared with the students the importance of taking precautions against the dangers in the kitchen, hygiene and sanitation rules, the details of professionalism and the tips of cooking and answered the questions of the students after the demo experiments.
At the end of the event, The Chairperson of the Gastronomy and Culinary Arts Deparement, Assist. Prof. Dr. İlker Türkeri presented Akbacak a certificate of appreciation.